("Speculate" – to form a theory or conjecture about a subject without firm evidence.)
Governor Inslee removed one of the few remaining semi-moderate Democrats from the Washington State Senate, by appointing Senator Steve Hobbs (D – Lake Stevens) to replace Republican Kim Wyman as Secretary of State.
Hobbs' status as a somewhat-moderate Democrat (by Washington State standards) has meant the senator has been a mini-roadblock to some of the governor's extremely liberal legislative agenda items. Beyond opposing Inslee's illegal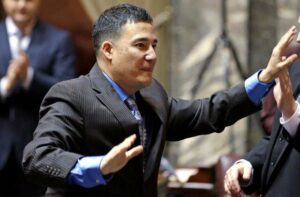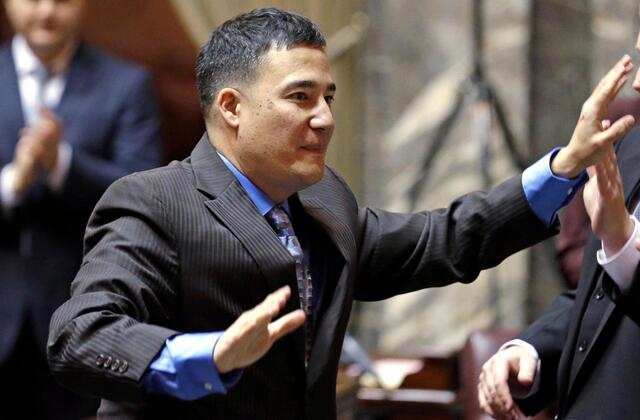 income tax, Hobbs also long protected the state from the governor's expensive and inefficient Low Carbon Fuel Standard (LCFS) (by holding it in the Senate's Transportation Committee he chaired), until his liberal Senate bosses moved the LCFS legislation to the more tax-friendly Senate Environment, Energy, & Technology Committee.
Removing Hobbs from the Senate will help Inslee with his liberal agenda, though the move will be wasted unless Senator Hobbs' replacement is committed to raising taxes, increasing the size of government, and passing expensive/inefficient environmental legislation (i.e., the Inslee legislative agenda). That opportunity, though the governor had many people lobbying to be Wyman's replacement, meant Senator Hobbs was easily his best choice.
We should note that by removing Senator Hobbs from his elected position, the radical Left-wing Senator Rebecca Saldana (D – Seattle) will likely be promoted from Vice Chair to Chair of the Transportation Committee. Readers will remember that Saldana endorsed Ubax Gardheere, a woman who threatened to blow up a bus full of children, to the King County Council.  Evidently that's the type of moral leadership Democrats feel we need leading on transportation policy.
When the Hobbs' announcement was made by the absent governor (by video from his in Scotland), we found it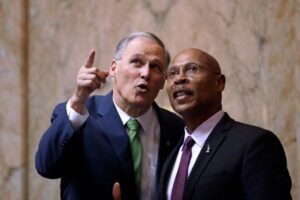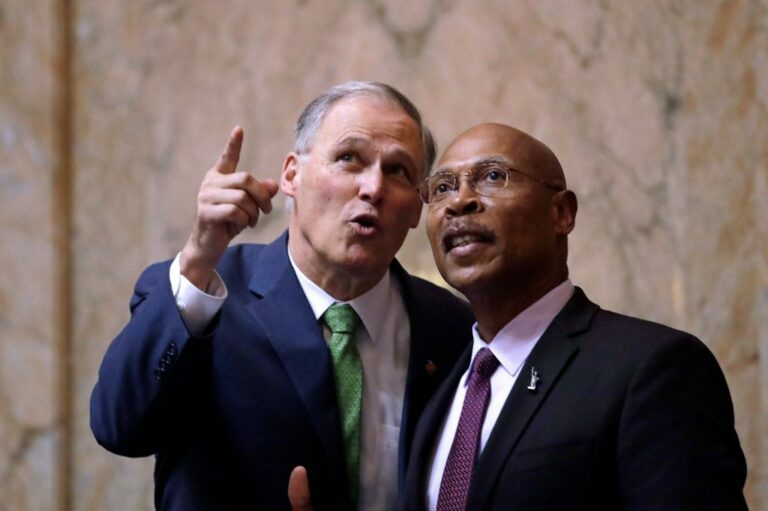 interesting that 44th District Representative John Lovick immediately informed Jerry Cornfield of the Everett Herald that he had already contacted every Democrat Precinct Committee Officer in the 44th Legislative District (they will provide the three nominees to the Snohomish County Council from whom Hobbs' senate replacement will be chosen) and his seatmate, Representative April Berg also said she has no plans to run.
So we speculate…
Representative Lovick already pledged 100% support for Inslee's legislative agenda if he is appointed to the Senate, in return for the appointment.
The Inslee team has already locked in commitments from the liberals who control the Snohomish County Council that they will select Representative Lovick.
Representative Lovick has already locked in commitments for financial support from Governor Inslee, the Washington State Democrat Party, and the usual wealthy Democrat donors (like government employee unions) as he will likely face an extremely tough Republican challenge in his swing suburban district when he seeks to hold onto the seat next November.
No member of the media will ask Lovick about the commitments he either made to the governor or the commitments the governor's team made to him as he lined up PCO support.
This appointment will mean Democrat members of the Redistricting Commission will alter their maps of the 44th Legislative District to make it safer for Lovick.
Shift will stay on top of this story as it continues to develop.