It's well-know that Sound Transit (ST) has an insatiable desire for more of your tax dollars, as the bureaucrats running the show try to figure out how to get more money for more trains and tunnels through Seattle. As Shift has pointed out time and again, this year ST is trying to fool voters into giving it a permanent hold on taxes, so it won't have to come back to voters again.
The Seattle Times took a close look at just how many taxes ST wants to grab with this year's $54 billion-dollar Regional Transit Proposition, and the list takes a long, long time to get through.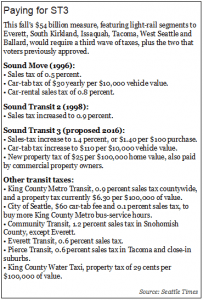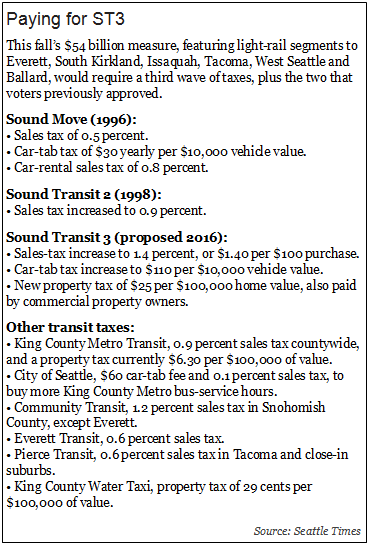 Just consider the taxes shown in the sidebar that add up to your individual share of transit taxes in the Puget Sound region, according to the Times.
Of course, for all of these taxes, one might expect that traffic would get better – but, unfortunately, as a former Sound Transit CEO admitted, "We've never said we will reduce congestion."
Instead, ST will focus on moving bus riders on to trains, so they can reduce the number of buses available to riders. Perhaps that is the bureaucrats' idea of how to reduce congestion.
And the ST folks are very creative when it comes with keeping the tax dollars flowing their way. The Times story reveals that "ST3 taxes would stretch past the agency's 2041 goal to finish the new rail, bus and park-and-ride projects, to finish repaying a proposed $11 billion in bonds… The last scheduled ST3 bond payment is 2068, or 30 years after the last bonds would be sold, the finance plan shows."
But that's not the whole truth, as the taxes don't automatically go away once the bills are paid – it will be up to future ST "leaders" to make that decision, not the voters.
As ST's current CEO reluctantly will admit. "Opponents claim the taxes are 'permanent,' but the word 'indefinite' better describes the situation. It's a sensitive topic.
"'We finance the projects,' said Sound Transit CEO Peter Rogoff, during a debate. '…and then the taxes are rolled back, as required in the ballot measure, the taxes are rolled back to only the level needed to operate and maintain the projects that the voters approved.' The full text of Sound Transit's ballot resolution requires such a rollback to the levels needed for operations, but leaves final discretion to the future transit board."
If you want to get even more depressed, you can use the Times' own calculator to get an even clearer picture on how your own taxes might climb above the $1,000 per year mark, for a system that won't be finished for 25 years – or longer.