Reserving parts of Seattle's public streets for transit use only is controversial. But, the debate over government-restricted lanes could be settled by addressing whether or not the lanes actually help people. Seattle officials promised transit-only lanes would "reduce travel times for all users." Unfortunately, as the Washington Policy Center points out, "new analysis from [Seattle Department of Transportation (SDOT)] officials shows their claims are wrong, revealing the harmful effects the lane takings have had on drivers."
Seattle commuters chose their cars about 60% of the time. That percentage increases for non-work related trips. Given the high percentage, it's easy to see why SDOT's promise inspired a good deal of well-deserved skepticism.
The Washington Policy Center reports that Seattle officials claimed restricting lanes to transit-only would make "commuting 24% faster in the PM Peak heading northbound on a stretch of SR-99 by reducing a 17-minute commute to 13 minutes." Officials also estimated that "southbound trip times in the evening would drop by two minutes, a nine percent time savings over previous levels." That's not what happened, to say the least. The Washington Policy Center,
"However, a recent official analysis shows that didn't happen. According to the SDOT report, not only did officials not provide the driving public with quicker trips, but for many people, travel times actually got worse after the policy took away part of the public street.  Even bus riders heading northbound during the afternoon commute have suffered longer commute times since officials reserved the public lanes for transit.
"It gets even worse when you compare the actual results to what officials promised. For example, car and freight drivers heading northbound during the PM peak sit in traffic 31% longer than officials said they would. Oh, and good luck driving southbound. During both morning and afternoon peak periods travel times are 15% longer than planners said it would take."
The Washington Policy Center provides the following charts to demonstrate actual commute times.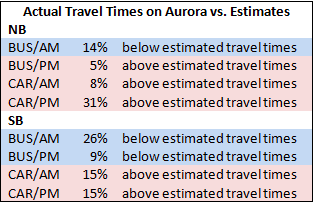 In the end, SDOT's promises are—as we've come to expect of transit agencies in our state—empty. SDOT's lane restrictions are just another example of ridiculous government policies that add to, rather than work to alleviate, Seattle's traffic nightmare.