When most people say they "seek to break partisan gridlock," they intend to act as a mediator in negotiating a solution among legislators from different political parties.
When Manka Dhingra is involved in bipartisan conversations, her negotiation tactics seem to rely more on ignorance and slander than actual discussions. Dhingra – a radical leftist whose idea of "bi-partisanship" is comprised of calling Republicans racists and misogynists, slandering Republican women with the label of "self hate" – has declared her intentions to run for Senate in the 45th Legislative District.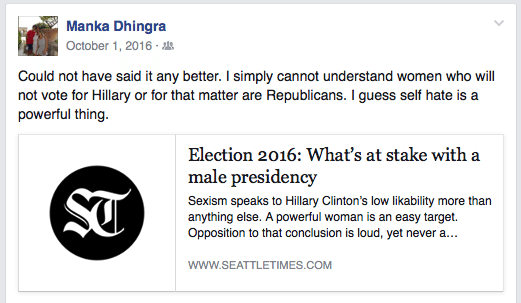 Unfortunately for Dhingra, the very district she is running for office in is made up of the very people she has insulted. Republicans have traditionally done very well in the cities and surrounding areas of Sammamish, Kirkland, Woodinville, Redmond, Duvall, etc. Typically, calling the majority of your constituency racist and misogynistic – and insulting their ideology, saying it derives from self-hatred – tends to lose you elections, not win them.
So, is Dhingra running an effective strategy? Not likely.
However, the left has begun to rely on these types of strategies more and more as of late. Clinging to the wake left by the most recent Presidential election, Democrats in Washington are attempting to push our state as far left as possible – sending in unqualified, radical candidates to take the seats of moderate ones. When Senator Andy Hill passed away this last October, members from both sides of the aisle were distraught. Hill left behind a legacy of successful bi-partisan negotiations and friends from both parties. Now, it looks as though the liberals of Washington State are seeking to end that bipartisanship with the next election.
Washington State Democrats have decided that a radical leftist is the best-suited candidate to replace the late Senator Hill this fall. It seems that all of the electable, moderate Democrats in the 45th district have turned down the offer to run for office. So, rather than continuing their search – it looks as though they're moving forward with scare tactics instead. After all, why not attempt to slander the district blue?