Shift's Newsmaker Interview is with Representative Skyler Rude (R – Walla Walla) who is a second term legislator after serving four years as the legislative assistant for the highly respected Senator Maureen Walsh.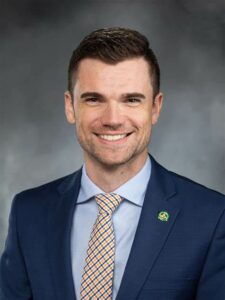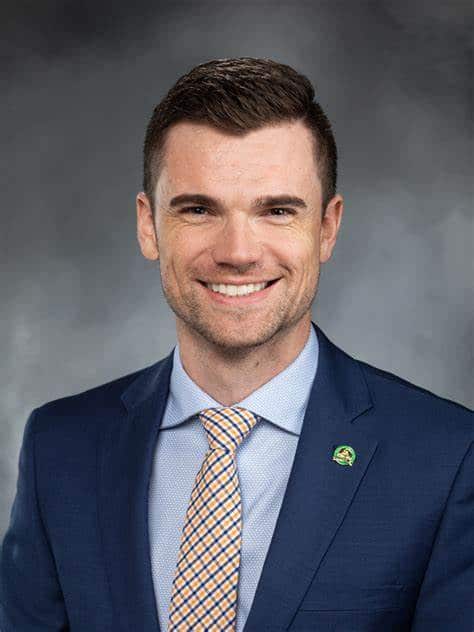 Representative Rude is a lifelong resident of Walla Walla and he serves on the powerful Appropriations Committee as well the House committees on Education and Health Care & Wellness.  Shift asks about Representative Rude about the Democrats failing to provide taxpayers with a break despite a $15 billion surplus. Because of his previous service as a senate staff member, Representative Rude provides a unique perspective on 100 legislative staff members walking out after legislation giving them collective bargaining rights failed. We also obtain the representative's views on education choice, emergency powers reform, and the governor's plan (HB 1838) which would have eliminated hundreds of thousands of acres of Washington State farmlands.
The Democrats released their supplemental budget proposal earlier this week and the big news is that despite record breaking surplus of revenue, they have refused to provide lower- and middle-income households with a much-needed tax break. What has been the reaction of your constituents to the Democrats' proposal?
Families in my district, and across the entire state, are facing the highest inflation rate in over 40 years, which is costing all of us. Increasing cost of living is a concern I hear about frequently. With historic revenue collections (a surplus of about $15 billion), we can afford real tax relief for working families without compromising state services. Republicans have also introduced bills this session to provide property tax relief, repeal the long-term care payroll tax, and reduce the B&O tax on sectors which inflation has impacted the most. These are all proposals that respond to the concerns I hear in district.
There has been much discussion during the 2022 legislative session over reforming the governor's emergency authority. What are your thoughts on the Democrats' proposal (SB 5909) and what do you believe needs to be changed in how the state is governed during an emergency?
I have been calling for emergency powers reform, with my Republican colleagues, for two years now. Senate Bill 5909 isn't necessary bad, but it does not substantially change the emergency powers. It allows the emergency order or proclamation to continue indefinitely unless 100% of the top four legislative leaders, both Democrat and Republican, act to end the emergency. Interestingly Democratic leadership could have called for a special session to curb the emergency powers 2 years ago. In fact, the legislature is currently in session, and we could immediately end the state of emergency this week. However, majority legislators simply aren't willing to exercise that existing authority.
Rep. Chris Corry offered a better solution in House Bill 1772. Rep. Corry's bill would allow the governor to act quickly during an emergency, but limit that authority to 60 days. If more time was needed, the Legislature could extend that authority.
There has been a mini exodus from our state's public school system during the past couple of years (state enrollment is down more than 40,000 students).  It is obvious many parents want more
choice for their students' education.  What can the state do to provide families with these options?
It is important to know why families are removing their children. Vaccine mandates and concern over instructional material are two concerns that I hear frequently. While I'd rather create a public school environment that builds trust and confidence for all families, I agree school choice is an important accountability tool parents can use to "vote with their feet" as they say. As a student of private Christian school myself, I know that private school options are an important component of school choice. Private school cost can be a real barrier for families though, and those families are still funding public schools with their property tax payments. Vouchers or other financial incentives for families who incur private school tuition and fees should be explored.
The state's agriculture community was shocked a couple of months ago when Governor Inslee released his secret plan (HB 1838) to extend the buffer zones around rivers and streams. This would have caused many farmers to lose a large portion of the land they current use to grow crops or feed their livestock. What are you thoughts on the plan and what does the secretive process the governor used to develop the plan say about Governor Inslee's (and the Democrats') relationship with the state's agricultural community?
House Bill 1838 would have also required landowners to plant trees along waterways crossing their property. Landowners who do not plant trees could have been fined $10,000 a day. That is absurd. The governor and lawmakers need to work together with farming and agricultural communities on the solutions that protect our fish and habitat. The constitution requires compensation for taking property, and regulations like this affectively take property by making it unusable. Compensation for losses absolutely has to be a part of any plan that takes, or reduces the value of, property.
You are one of a few legislators who were previously a member of the state's legislative staff.  Thus you have a unique perspective on the desire of labor unions attempting to organize these staff members.  What are your thoughts on this issue?
Recently, approximately 100 Democratic legislative staff chose to no-show to work in protest over the failure of HB 1806, allowing collective bargaining, to move forward. As staff for four years before getting elected, I always took pride in the hard work and long hours spent working at the Capitol to do the peoples' work. While there is room for improvement, the staff walk-out solidified my opposition to collective bargaining for legislative staff.
Anyone connected to the Legislature knows how busy session can be. I cannot imagine not showing up to work because I was upset about a bill failing – I feel that is disrespectful to the institution and the public we serve. An effective alternative to collective bargaining could be a staff-driven advisory group that could be the liaison to House and Senate administration on issues of workplace safety, conditions and compensation.
For more information on Representative Skyler Rude, or to contact his office, please visit his official website.