Newspaper headlines regarding a recent Elway poll have an interesting—and rather misleading—take on the results. The National Public Radio headline reads, "Elway Poll Suggests Washington Voters Open To Higher Taxes." The Everett Herald announced, "Survey finds favor among voters for Inslee tax plans." And the Seattle Times stated, "Poll: voters open to Inslee's taxes on carbon and capital gains."
Scanning the headlines, one would believe that Washingtonians accepted Jay Inslee's $39 billion budget—complete with a whopping $1.5 billion in new taxes—with open arms. Indeed, the accompanying articles don't do much to dispel the first impression. Reality—as the Freedom Foundation points out—is quite different.
The poll in question actually finds, first and foremost, that Washington voters are unwilling to pay higher taxes. For its part, the NPR contradicts its own headline by noting, "Washington voters would prefer no new taxes and no deep cuts to state services. But if that's not possible, they're open to some new taxes."
Here is the actual question the Elway poll asks:
One of the first issues the Legislature will face is how to deal with these education mandates. The following are some general approaches being proposed. As I read each one, tell me whether you would: 1) be inclined to Favor that approach; 2) think it could be Acceptable; 3) be inclined to Oppose that approach; or 4) find it Unacceptable.
I realize you don't have all the details, but how are you inclined? The first one is…
1) fund public education first with existing revenue. Then fund the rest of state government with the money remaining—even if that means cutting other services;
2) increase taxes necessary to fund the supreme court and voter mandates to reduce class size without making further cuts to other programs and services; or,
3)  do as much as possible to fund education and reduce class sizes without raising taxes and without deep cuts to other programs – even if that means we do not fully implement the education mandates.
Here are the results: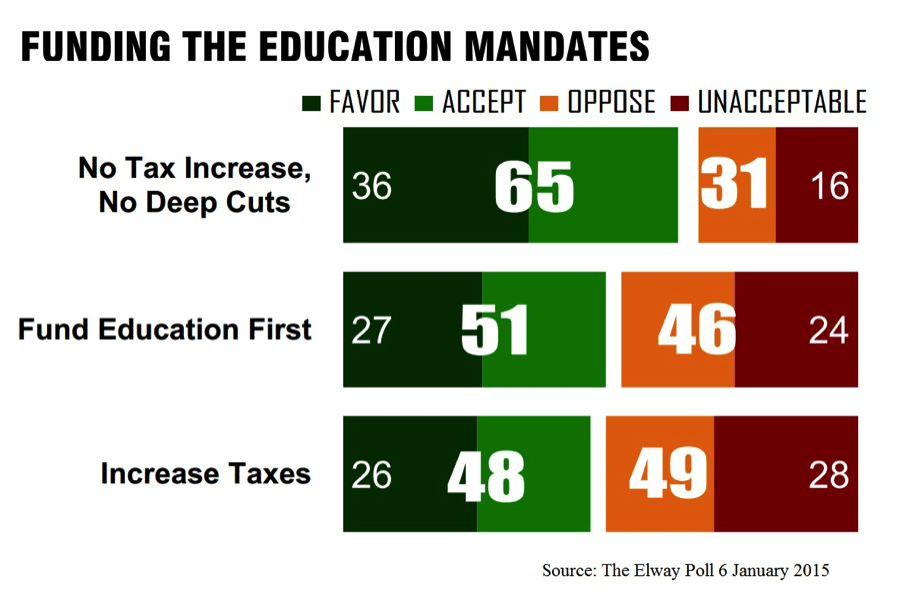 The most significant finding is not that voters are "open" to Inslee's tax hikes. In fact, they are overwhelmingly, unarguably opposed to tax increases. A whopping 65 percent of Washington voters oppose tax increases or deep cuts "even if that means we do not fully implement the education mandates."
The Freedom Foundation explains, "The claim that voters support the tax ideas suggested by Gov. Inslee is drawn from a follow-up question. It explains that the governor is proposing taxes and asks what the voter thinks about each idea."
When given the choice, voters are against new taxes. However, when presented a hypothetical situation in which taxes are mandatory, most voters choose an option in which someone else pays. Voters rank the most acceptable to least acceptable taxes as follows: (1) cigarette taxes, (2) carbon taxes, (3) capital gains, and (4) bottled water.
That sure doesn't sound like "favor among voters for Inslee's tax plans."