As Shift reported, despite being a State Senate candidate for over three years, Democrat Tim Probst did not file his F1 financial disclosure form with the Public Disclosure Commission (PDC) as required by law.
He evidently forgot about the rules, which he had followed when he was a State Representative, until it became a campaign issue this year.
Probst left the state House after he lost his last state senate race back in 2012, but he stayed on the public dime. In fact, state Democrats landed him a cushy $100,000+ job in the state's Employment Security Department, in part to ensure he would be available to run again this year.
And, though he filed new paperwork as a candidate in 2013, Probst failed to disclose his financial information as required by state law, perhaps in part to hide his excessive taxpayer-funded salary. Probst only disclosed his income after the PDC was informed that the liberal candidate was ducking disclosure.
Probst's campaign attempted to dismiss the rule-breaking as an "oversight." And, unfortunately, the PDC appears to have — generally — accepted the rather weak excuse (it's an "oversight" over something he knew he was supposed to do, and the "oversight" lasted over three years).
This week, evidently not wanting to do serious harm to a high-profile Democrat candidate, the PDC gave Probst a light slap on the wrists. Probst's penalty is a fine of $150 with $150 suspended so long as there are no significant violations for a period of four years.
Evelyn Fielding Lopez, the Executive Director of the Public Disclosure Commission, tweeting the following in a mocking reference to the case: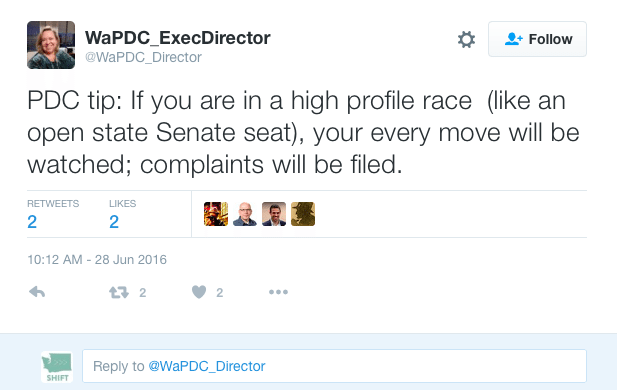 It would also appear that, if you are a Democrat who violates campaign finance laws, the PDC will merely slap your wrists… no matter how often you break the rules.