Ask a reporter about their job, and you will likely hear some form of the self-congratulatory maxim that they "comfort the afflicted and afflict the comfortable." Taking a quick look at recent news coverage, the truth seems to be that some reporters are much more comfortable protecting the comfortable.
Take the recent story by Hal Bernton in the Seattle Times about the trip to Scotland by Governor Inslee, Democrat State Senator Reuven Carlyle, and Seattle Mayor Jenny Durkan. The story waxes on about the work the three are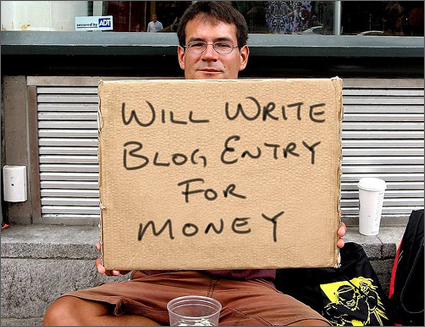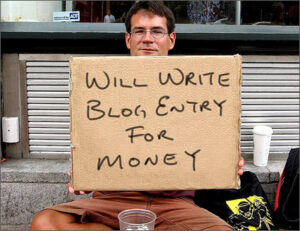 doing, making frequent flattering references to Washington's laws as "some of the boldest in the word," and bragging that Washington is ahead of Washington D.C.
The only hint of dissent comes in the third-to-final paragraph, citing teenage activist Greta Thunberg saying the world isn't moving fast enough.
As if the fawning tone wasn't enough, there is a posed photo of Senator Carlyle riding a train (pictured above), looking thoughtfully off into the distance which, the Times notes, is "Courtesy of Sen. Reuven Carlyle."
From the first sentence to the photos, every bit of the story was guided and provided by the very elected officials the Times claims to hold accountable.
With such favorable coverage, what politician wouldn't want to pay for more? That's exactly what Senator Maria Cantwell thought.
Included in the recently passed $1.7 trillion spending bill passed by Congressional Democrats is $1.7 billion in taxpayer dollars to pay for hiring reporters. How are the reporters who are supposed to hold politicians accountable reacting to this offer of free money?
They are giddy.
KING 5 reporter Chris Daniels happily tweeted that "Per @SenatorCantwell — House-passed Build Back Better act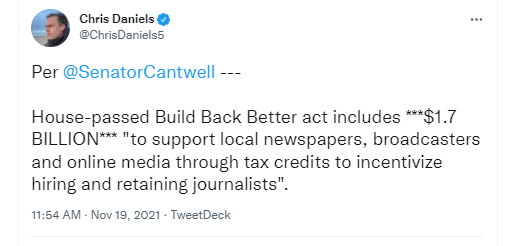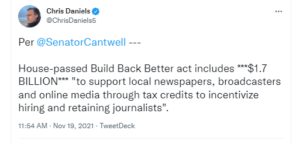 includes ***$1.7 BILLION*** "to support local newspapers, broadcasters and online media through tax credits to incentivize hiring and retaining journalists." The excited stars were added by Daniels.
It is remarkable that a reporter would see nothing wrong with reporting favorably on politicians who are giving their industry free money. Reporters who would immediately question the motives of a politician based on campaign contributions seem to think they are somehow free of the same ethical questions about who they take money from – let alone celebrate those contributions.
Reporters on Twitter are like the doctor who smokes on their break, explaining it isn't hypocrisy because they aren't on the job. We can at least be thankful for these moments of candor that Twitter provides, making it clear that many reporters sympathize more with the comfortable than the afflicted.