By: Robert Smiley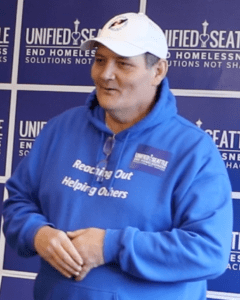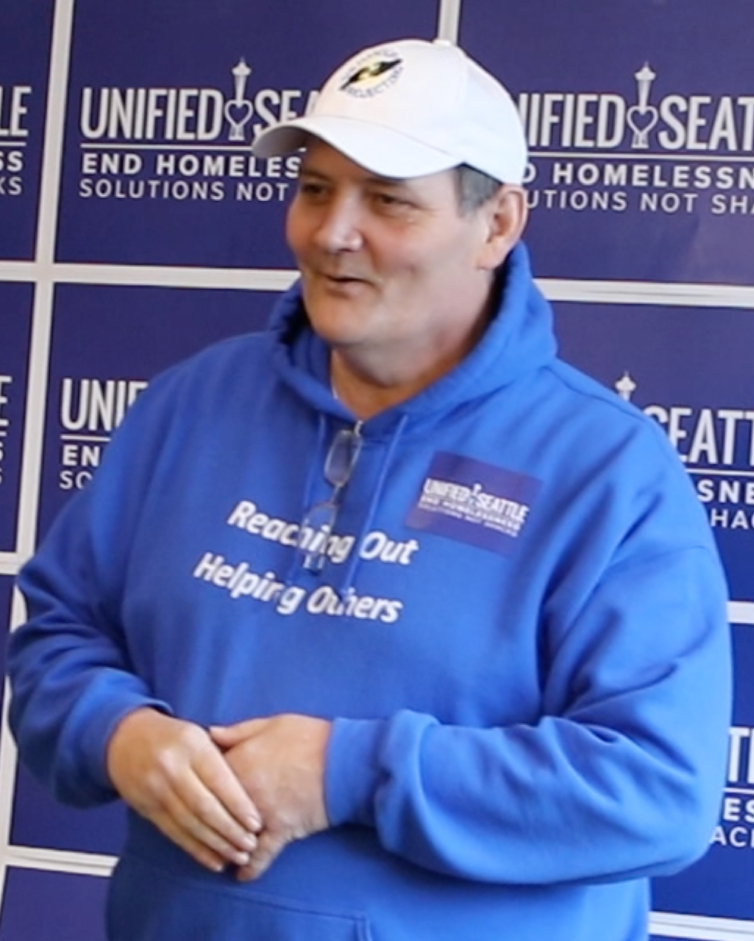 In 1986, as a young man in my late 20s, I left my home in Reno, NV and moved to Washington, where my life took a bad turn beginning with alcohol abuse and ultimately finding myself addicted to crack cocaine. As my addiction took over, I spiraled out of control, lying, cheating and stealing in order to support my habit. Not only did I destroy my own life, but I hurt everyone around me.
After spending many years in prison and hurting many people, I finally embraced sobriety on the 1st of October 2012. While working a 12-step program, I learned a new way of living in which I needed to help others in order to maintain my own sobriety. With few resources but a dogged determination, I have learned how to use my experience to reach out to those in need.
Having experienced homelessness in Seattle first hand, I believe there are three main causes: mental illness, addiction or economic displacement. Each of these requires a different and targeted solution.
I believe Seattle addresses the symptoms rather than dealing with the cause. Housing the homeless without requiring a lifestyle change is an ineffective, unscalable and unsustainable solution. It simply does not work. Sobriety is an essential ingredient of a reformed life and anything less is destined to fail. If we do not require sobriety, then we are only supplying a comfortable place to continue a destructive lifestyle.
In my opinion, and after many years working hand in hand with the homeless, the proposed low-barrier (drugs and alcohol are allowed) tiny shack village in South Lake Union is destined to fail just as the others have. The mentally ill need treatment from specialists and addicts require detox and ultimately a recovery plan.
We have found that those struggling with mental illness do not thrive in an environment which does not provide therapy and a medication regime. We simply cannot install them in a tiny home and leave them to figure out the rest. These people require and deserve the help of properly trained medical professionals. Tiny Shack Villages are not equipped to provide these services.
Allowing low-barrier residency does not address the root cause of the problem. The tiny homes could be successful if a zero tolerance environment is implemented. My experience has shown that if someone wants to get help then there are certain basic guidelines that need to be adhered to, the most important being zero toler­ance. Even if they do not feel they have a substance abuse issue, we should still ask that they maintain complete so­briety in order to receive our help. If they cannot abstain from drinking and/or using drugs, we should help them seek assistance in the form of detox, counseling and recovery housing.
Tiny villages are, however, effective when it comes to the economically displaced. Providing a safe residence allows them to concentrate on reentering the workforce and/or seeking counseling. Ideally this would take as little as 6 months, allowing the tiny home to be offered to others in need.
The most valuable gift we can give those in need is not a temporary shelter but the tools required to deal with life's challenges as they reappear in the future. Building not only a physical structure but a structure of support is more likely to lead to long term change in the lives of those in need.
Robert Smiley is the COO/Founder of The Hands Up Project which assists people struggling with substance abuse and destructive behavior that has led to homelessness. They provide support from those who have had the same experience and are now enjoying a new way of living.  For more information visit www.thehandupproject.org.