Seattle Councilmember Kshama Sawant dispatched an open letter Tuesday, condemning Seattle Police officers for the "shameful" arrest of a Seattle Green New Deal activist who spray painted City Hall during a protest on Friday. The demonstration was led by '350 Seattle' – the lobbying wing who brought the legislation and sat at the negotiating table next to Councilman Mike O'Brien.
"I made a mistake on Friday, and I intend to make it right," she said. "Can you implement effective climate policy and help us make this right?"https://t.co/jF0wLsEutb

— 350 Seattle (@350_Seattle) August 13, 2019
In a continuation of her dangerous anti-police rhetoric, she went on to suggest the officers "egregious and completely unnecessary actions" demonstrate the racist conduct disproportionately experienced by communities of color. The Councilmember defended the 13 year old suspect's actions, arguing that she "inadvertently and accidentally spray-painted part of the wall." Sawant went on to justify the vandal's behavior as "helping build a movement to address the climate catastrophe," and of course used the opportunity to propagate her climate change talking points, attack Trump, climate deniers, and Congress, and glorify Representative Alexandria Ocasio-Cortez. Councilmember Sawant demanded a public apology from the Seattle Police Department as well as an immediate public announcement from the County Prosecutor's office that they will not press charges.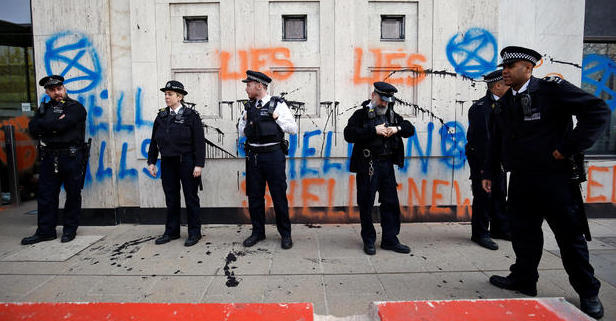 We noticed that the symbols spray-painted on City Hall belong to an organization led by extreme Marxists called Extinction Rebellion. The group, who is notorious across Europe, aspires to 'bring down the government' and warns people 'might DIE in the process of uprooting capitalism'. These are definitely the people you want on your side. ⬇️ This Friday's call to arms should be interesting…
.@cmkshama urges community to stand with student activists fighting for climate justice, including 13-year-old arrested at climate change demonstration https://t.co/pOu7rXQFEz

— Seattle City Council (@SeattleCouncil) August 13, 2019