Far-left blogger Joel Connelly sent out an interesting tweet when Washington's Republican Rep. Cathy McMorris Rodgers, the third-ranking member in House leadership, nominated Congressman Paul Ryan to be elected Speaker of the House. Check it out below: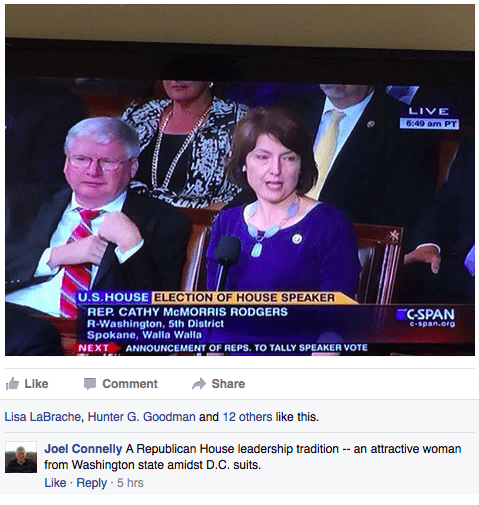 Connelly's tweet is shockingly dismissive of a woman in power, dismissively attributing Rep. McMorris Rodgers' accomplishments to a Republican "tradition" of having an attractive woman in leadership. The irony is that he is attempting to portray Rep. McMorris Rodgers' male colleagues as the ones who are only interested in having someone "attractive", not substantive, among their ranks.
Worse, Connelly's reference to the "tradition" of Republicans having an attractive woman in leadership is an obvious reference to former Rep. Jennifer Dunn. His comment denigrates her legacy in Congress as well.
It's not Republicans who are diminishing women in leadership. It's Connelly who is. We doubt Connelly would have made similar comments in reference to Washington's liberal Democrat Senators Patty Murray and Maria Cantwell.