Shift has pointed out throughout this week the various Democrats' public policy "wars" – on transportation, jobs, etc. Today, we return to an unfortunately familiar topic, the extreme laziness of Jay Inslee.
Public records show that Inslee spends most of his time as governor of our state not actually working — unless, of course, it's for his re-election bid or his campaign donors' liberal agenda. In our continued efforts to hold our green governor accountable, we bring you another installment of Inslee's "work" habits (which means working as little as possible while drawing a public paycheck).
Without further ado:
Monday, June 13th:
Inslee's schedule was filled with "Free", "Personal Time", and "Out of the office" time. He did not have an official activity all day.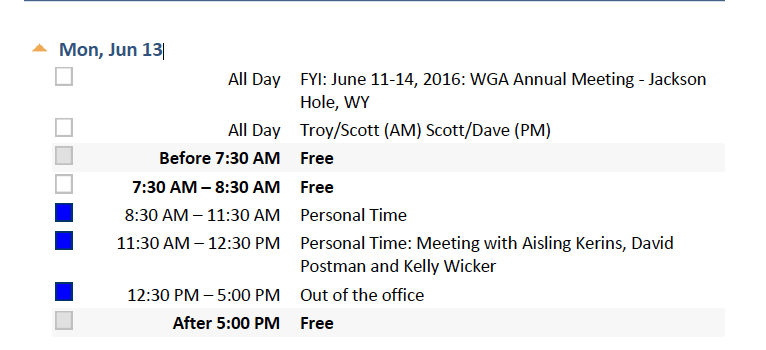 Tuesday, June 14th:
After an exhausting start of his week, Inslee started this day at 8 AM with a conference call briefing with his executive team and the state Department of Health and Human Services. Apparently, they discussed the Western State Hospital. The phone call lasted half an hour. Inslee's next meeting was via phone with his advisors at 9:20 AM — the phone call lasted 20 minutes.
The rest of his day is filled with "personal time" until a 15 minute phone call with Iowa Governor Terry Branstad at 4:30 PM, to personally invite Inslee to a July National Governors Association meeting — a courtesy Branstad was likely extending to every governor.
Inslee did not work the rest of the day. In total, he "governed" a whole 1 hour and 5 minutes.
Wednesday, June 15th:
Inslee started his day with a 15 minute meeting with Chief of Staff David Postman at 8 AM. It wasn't until 3:15 PM that Inslee had any other official business scheduled — that was for a 30-minute conference call with his executive team. From 4 PM to 4:50 PM, Inslee took care of some ceremonial business — including a video recording for a scholarship foundation.  Then, from 5 PM to 5:30 PM, Inslee prepped for and conducted an interview with the ultra-liberal blog, The Stranger.
Other than finishing the video he started making earlier for 15 minutes, Inslee wrapped up his day at 6 PM.
Our green governor managed to put in 2 hours and 20 minutes of public work this day.
Thursday, June 16th 
Inslee started his day with a quick meeting with Olympia Mayor Cheryl Selby at 9:20 AM. The meeting lasted 15 minutes. Then, our green governor managed to work from 10 AM to 1:30 PM (a whole 3.5 hours).

Alas, his work streak didn't last long. He was off for a haircut at 1:40 PM.
Inslee then came back to the office to work on communications for an hour at 2 PM. And, after taking an hour of "personal time," he visited the Services for the Blind in Seattle. That visit lasted 30 minutes.
Inslee filled the rest of his day with campaign business. He worked a total of 4 hours and 15 minutes, his busiest day of the week on behalf of Washington State!
Friday, June 17th 
Inslee started his day at noon with a 15 minute phone call with a policy advisor. He then filled his day with more "personal time" until 3 PM – 4 PM, when he managed to fit in two 30 minute phone calls with policy advisors (the first on trains and Monsanto, and the second on education. At 4 PM, Inslee met with the Washington Education Association for 30 minutes — no doubt they discussed his re-election and whether the WEA would be putting $1 million into his campaign, as the union did in 2012.
Inslee did no public business the rest of the day. In total, our green governor worked 1 hour and 45 minutes to close out his "work" week.
Saturday and Sunday, June 18th-19th 
And, as usual, Inslee took the weekend off.
Inslee's total "governing" time for the week was 9 hours and 25 minutes.
Once again, that's your green governor, at "work."