Given the number of emails we've received from Jay Inslee this week begging for money (15 is now the current count, but there's plenty of this day left), we wondered what Jay Inslee's official schedule looked like? And, after obtaining this actual copy from his office of what his days were like leading up to his trip to the United Nations climate conference in Paris, we can tell you this much – government work is not his priority.
In fact, it's rather shocking just how little official business is accomplished between the time devoted to our "green" governor's personal time and the time devoted to fundraising. After spending his Sunday resting up with no scheduled activities, Inslee's calendar contained just over 50 hours of items from Monday, Nov. 30 until he left for the airport to go to Paris Friday morning at 10:30 on Dec. 4 – an just 13-and-a-half of those hours were spent on anything resembling gubernatorial business.
The 10 hours and 15 minutes he spent gong from his home to the office, or official meetings – with no scheduled calls distracting him – almost equaled the time he spent governin' that week!
The reality is that one activity dominated half his scheduled time: fundraising. From "dialing for dollars" phone call time monitored by his big-money consultant Tracy Newman, to seven separate fundraising events, Inslee spent 24-and-a-half hours raking in cash from Monday to Friday.
Although, according to his email blasts, that fundraising isn't going so good, as he struggles "still $5,471 behind our Beat the Freeze goal" of $100,000 goal that he announced on November 12 (at least, as of this morning).
Take, for instance, Inslee's schedule on November 30th (beginning at 10 am).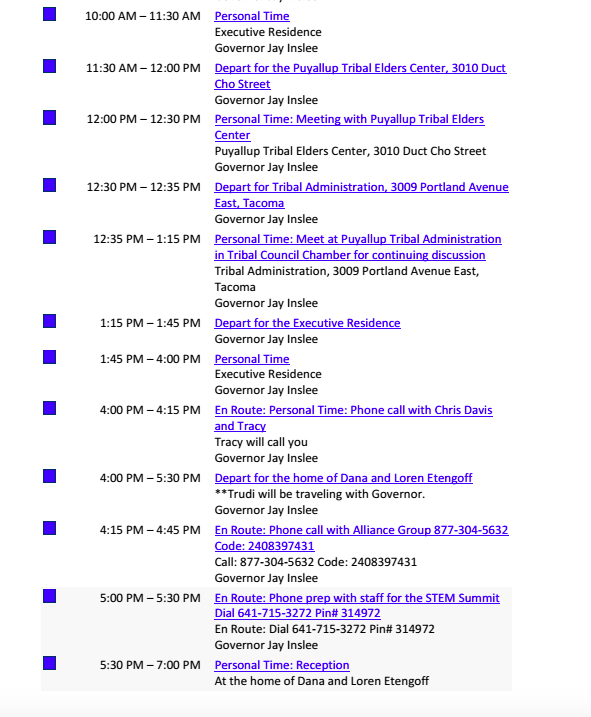 Notice that from 10 am to the end of his day, Inslee was either engaged in "personal time"—mostly for what are identified as private fundraising events or call time—or en-route to a location were he would engage in "personal time."
That begs the question how might have Inslee spent the time it takes to commute from "personal time" to "personal time".
If his fundraising emails are any indication, Inslee spent that time thinking of how many different ways he could say "Koch-funded" or accuse Republicans of being "Koch-funded." Here are just a couple of examples,
"Meanwhile, the Koch brothers-fueled Republican Governors Association can target us for defeat — and with over $170 million spent in 2014 alone, it's all but certain that they will."
"Three months of no fundraising events. Three months of no fundraising emails. Three months that we won't have a "donate" link on our website. And all the while, my opponent and the Koch brothers-fueled Republican Governors Association will be raising hundreds of thousands of dollars."
"Can you help us meet our goal? Our opponent was just in Las Vegas meeting with the Republican Governors Association. This Koch-funded group will target weakness and, right now, we're falling far behind of our $100,000 goal before the fundraising freeze."
"In the coming weeks we will be deciding whether our 2016 field program can be as robust as 2012's. These are big decisions, especially at a time when our opponent just got done meeting with the Koch-funded Republican Governors Association."
When he was finished doing that—which probably didn't take all that long considering the how uncreative the accusations are—Inslee appears to have been thinking about all the ways he could oh-so-desperately beg for money. Perhaps the most annoying part of it all was Inslee's insistence on persistently reminding would-be contributors of the fundraising "freeze." He even set up a "Beat the Freeze goal," which he kept bringing up—again and again. Here are just a couple of examples,
"Four field organizers or 20 field organizers? That's what we'll be deciding once this legally mandated fundraising freeze takes effect in three days."
"As a state official, the fundraising freeze makes sense — for the next several months elected representatives should be focused on governing. As a candidate, I know the fundraising freeze puts our campaign at a disadvantage…"
"Governor Inslee is fighting for us. Now it's our turn to fight for him — and with just a day left before our legally mandated fundraising freeze, we can't let him down."
Alas, Inslee's desperation is coming to an end today—‌as, of course, he made sure to remind his supporters four times yesterday, and four more times today (through 3:05 p.m.). A fundraising email his campaign sent out yesterday stated,
"Tomorrow, one second after ‌11:59 pm, our campaign must close the books on all fundraising for at least three full months."
Well, Inslee and his campaign clearly are not happy about the fundraising freeze coming their way. But, something is telling us his supporters are quite happy today.
And maybe he'll have more time on his official schedule for something, well, official.