Jay Inslee has, once again, attempted to steer the message concerning his extreme "green" agenda by labeling facts as myths and his alternative reality as, well, reality. Inslee issued another one of his infographics he calls a "Rhetoric Reality Check." This time around, however, Inslee got a bit confused—that does tend to happen—regarding how the set up works.
You see, Inslee's "myth" isn't a myth—not that any of his myths have been actual myths in the past. Rather, it's a statement. Worse, he doesn't even attempt to dispute it in his alternate reality section. Here's his latest info graph: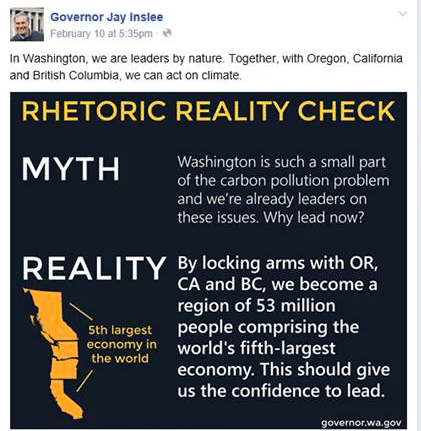 Basically, Inslee admits his critics are correct. As Shift has pointed out time and time again, Washington State contributes a mere three-tenths of 1 percent of the world's greenhouse gases. Inslee's extreme green agenda—including his cap-and-tax scheme and fuel mandate—would have virtually no impact on carbon emissions reduction. But, it would place a heavier financial burden on Washington's working families.
Inslee then presents his alternate reality. According to our green governor, if Washington state, Oregon, California and British Columbia all implement disastrous economic policies (which carries multiple unforeseen consequences), then the previous fact is invalidated. Never mind the fact that his point is false (California's fuel mandate has only resulted in "fuel shuffling"), Inslee completely misses the point.
Inslee's extreme green agenda places an undue hardship on hardworking Washington families. It would raise the price of fuel, an increase that impacts everything from heating your home to the cost of groceries and the price you pay at the pump. And, it places Washington State at a disadvantage for attracting new businesses, jobs.
In light of that fact, Shift presents our latest "Rhetoric Reality Check."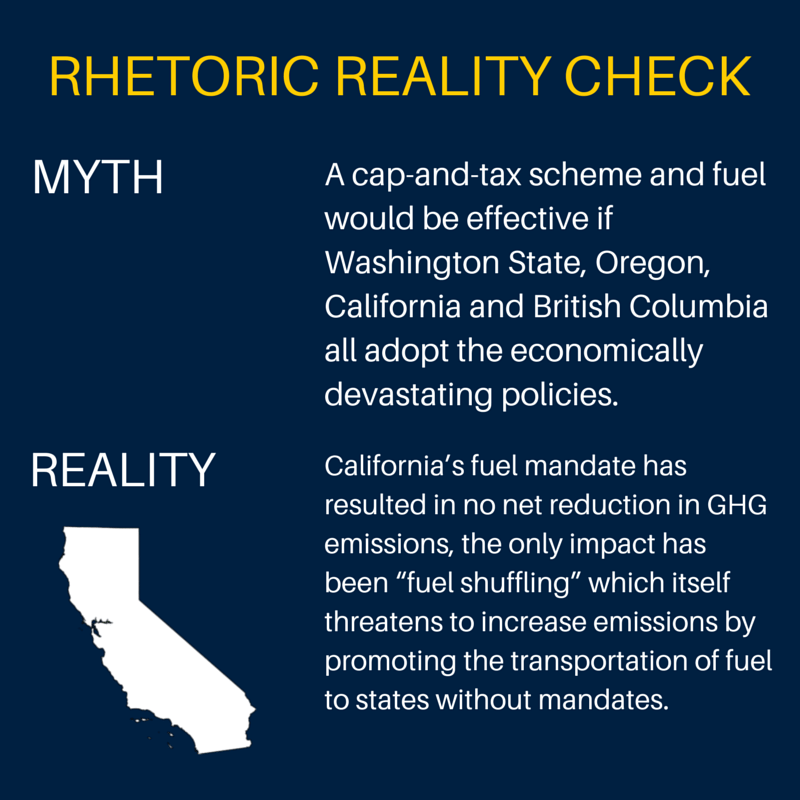 You can find out more here.
Inslee relies on distortion of fact to build support around his extreme green agenda, which include both his cap-and-tax scheme and fuel mandate plan. Check out the latest here.