Jay Inslee wanted to thank his campaign donors for their recent support of his agenda. So, Inslee did what any five-year-old would do, he drew them a picture… an actual picture.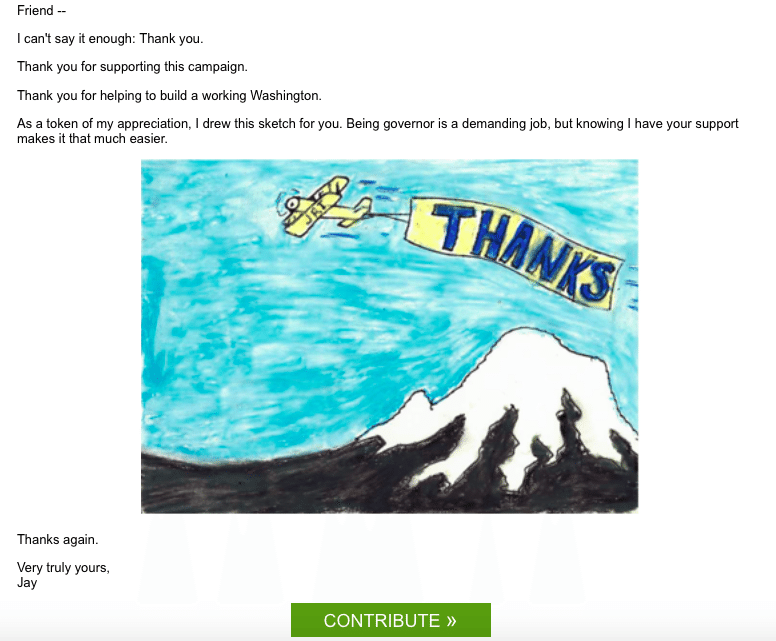 Of course, little do the supporters who gave Inslee money know, they were probably duped into supporting him under some type of false pretenses. After all, that appears to be Inslee's M.O.
As Shift reported, Inslee sent emails to supporters on issues and bills in front of state lawmakers throughout the 2015 legislative session. The emails asked recipients to "support specific initiatives backed by Inslee and to add their names to petitions."
Inslee's emails prompted Susan Hutchison, chair of the Washington State Republican Party, to file a complaint against him with the state Public Disclosure Commission (PDC). The complaint alleged that our green governor violated state lobbying laws with emails that amounted to personal grassroots lobbying, using campaign funds.
Though the PDC decided not to pursue the complaint, it did force Inslee to admit he was lying to his supporters. Inslee's representatives told investigators that "names and emails of respondents were entered into campaign databases but no petitions were ever created or sent to lawmakers" though the emails led supporters to believe they would be. Inslee's lawyer claimed that the campaign "did not use the responses to present a petition or similar message to state legislators."
In short, Inslee evidently believed he would not generate much support if he told donors he was just building a bigger campaign data base.
As for the picture, all we can do is wonder just how much carbon his little airplane is emitting just to fly a "thank you" banner through the air.