Jay Inslee's $39 billion budget includes spending for employee pay hikes to the tune of a whopping $867 million. As Shift reported, the generous pay hikes were the result of secret negotiations (read: concessions) between Inslee's office and top union executives from the state employees' unions.
Inslee and fellow Democrats—along with union executives—try to justify this big hit on the state budget by claiming that state employees have not received pay raises for the past six years. In turn, the lack of pay hikes hurts the retention rate of state employees.
Well, as it turns out, the facts (once again) prove them wrong. A recent policy newsletter issued by Republican state Senator John Braun uses simple facts to disprove the claims that (1) state employees have gone six years without pay increases and (2) there is a state employee retention problem.
Braun begins by pointing out that, due to a change in the payroll system, individual salary data only goes back to 2010 not 2008. However, Legislative Evaluation and Accountability Program (LEAP) data allows for "an analysis of how salaries for individual employee who worked a full year in 2010 compare to the salary they received for 2014." The data shows 71,032 state employees fit the criteria of working a full year in 2010 and 2014.
Salary analysis proves that 86% of these state employees are paid more than they were four years ago. Additionally, "the average and median salary increases over that period have exceeded inflation."
Check out the graphs below: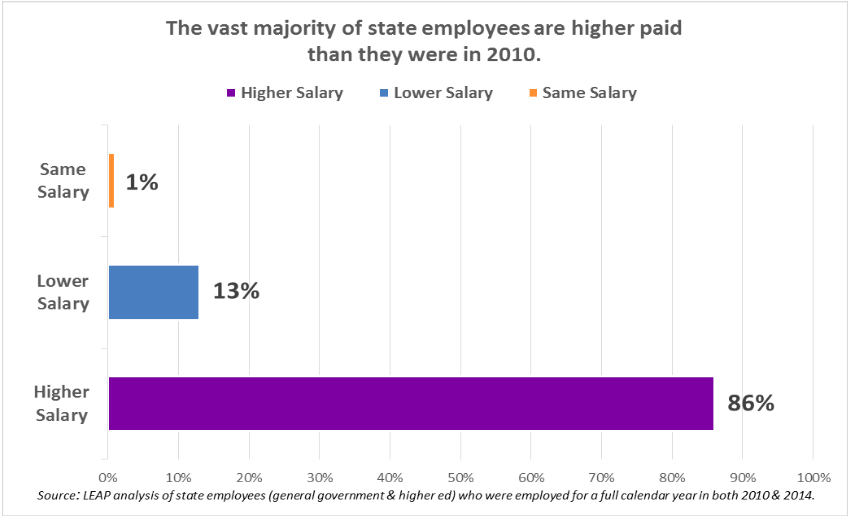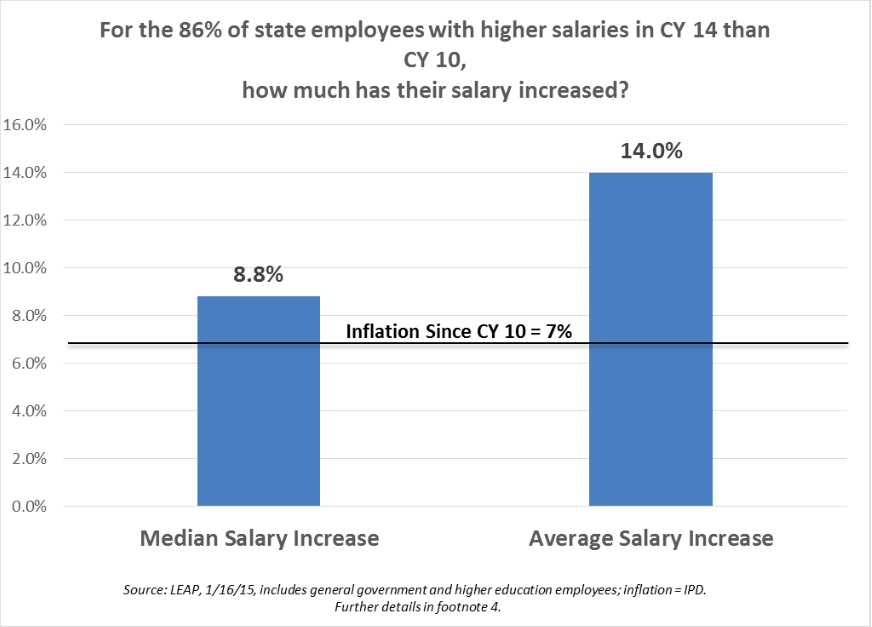 Braun goes on to evaluate the Office of Financial Management's annual report on the state employee workforce, pointing out that it found a 9.8% turnover rate for Washington State—compared to the national average of 16.3%. Of the 9.8% of employees who left their jobs, 4.5% resigned (compared to the 7.1% national average), 2.8% retired, 2.1% fit the "other" category (end of appointment/disability separation), and .4% were laid off or dismissed.
But, that's not all. OFM's report also states, "Washington state employees tend to stay longer than state and local government employees in other states (6.4 years) and federal employees (9.5 years)."
The facts reveal two conclusions that are contrary to Inslee and Democrats claims:
The vast majority of state employees are being compensated higher than four years ago. In fact, their salaries have risen faster than inflation.
The state does not have a systemic retention problem. In fact, the state has a commendably low turnover rate that is well below the national public sector average.