Tuesday marked the beginning of Year Three of Governor Jay Inslee's undemocratic abuse of emergency powers and of legislative Democrats abdicating their constitutional responsibility to be the branch of government which writes, debates, and votes on the laws which govern our state.
This leads to the question: if both the governor and the Democrat legislators believe that the Democrat-controlled legislature is still incapable of reassuming its constitutional duties, then why should voters support these Democrats in November?
Sadly, the governor once again refused to provide to Washington residents with a timeline for when he will end his abuse of emergency authority when he was asked for one during his media event on Monday.
When pressed, the governor did what he has often done during the previous 731 days of his one-man rule over Washington, he used divisive and false political rhetoric to divert attention away from his own actions.  While Republican proposals to amend the state's emergency orders have focused on making our state laws similar to those in nearly every other state, the governor chose to insult the intentions of the lawmakers by saying "They just want to follow Donald Trump."
Then the governor's comments became totally unhinged and he either knowingly told a lie or demonstrated how isolated he is from reality when he said Republicans in Washington State "refuse to stand up to (Trump's) coup attempt."  Yet the facts don't back the governor's outrageous claim.  As opposed to Governor Inslee and every elected Democrat in Washington who has yet to condemn the political violence conducted by liberal activists (including by the radical group Antifa) in Seattle during 2020, Washington Republicans were responsible leaders who have condemned political violence, no matter who commits it.
While Democrats irresponsibly said nothing while their supporters rioted, Republican leader acted responsibly and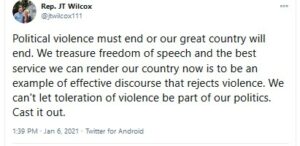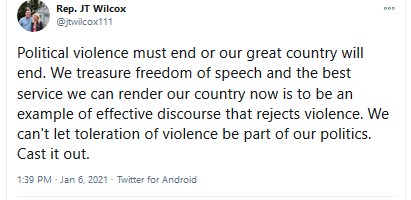 immediately condemned the violence by fringe Trump supporters. The Chair of the Washington State Republicans, all GOP members of the Washington congressional delegation, and the Washington GOP's legislative leadership all condemned the January 6th violence AS IT WAS TAKING PLACE.
Not only have the Democrats (including Governor Inslee) still refused to condemn the political violence conducted by their supporters, but they have also caved into the demands of Antifa and passed reckless "police reform" laws which have resulted in skyrocketing crime rates as the state has become a more comfortable place for criminals.
On Monday evening Republican leaders stated their outrage over the governor's hyper-partisan insults and fabrications.  Representative Andrew Barkis (R – Olympia) immediately tweeted, "I had thought I'd heard it all! Until now. (Governor Inslee) has lost all credibility. His angry, incoherent accusations to justify retaining his 2 years of control."  Republican Senate Leader John Braun said, "If the governor had been more inclusive during the past two years, instead of meeting only with Democratic legislators regarding his proclamations, he might actually understand what Republican leaders view as important. Maybe he would then be less inclined to cast political aspersions in a random and divisive way."
There are many who are equating Governor Inslee's rant to that of his fellow Democrat Senator Marko Liias (Everett), who last week made unhinged comments about Democrat Oregon Governor Kate Brown.  While the senator later somewhat redeemed himself by apologizing for his comments, history shows that the governor will not do the same and that no one in the media will call him out for his obvious false rhetoric.