Because state lawmakers have not agreed on a supplemental budget, the 2016 legislative session will extend into overtime. Earlier this week, Jay Inslee said he would not sign another bill until lawmakers came to an agreement. He threatened to veto all bills on his desk if lawmakers failed to wrap-up session on time.
Well, lawmakers failed. That left our "green" governor with a dilemma. You see, Inslee's ultimatum left him with two no-win options. He could carry out his threat and deal with the public backlash of deliberately vetoing popular bills. Or, he could break his ultimatum and admit that his threats were hollow.
The first option would leave him with a PR problem on the eve of his re-election battle. The second option just further illustrates the weak leadership that has defined his administration.
Today, we received insight into Inslee's game plan. And, it appears that Inslee, being the definition of an ineffective, disordered politician, is trying to dance between the two options. Inslee has decided to sign some bills into law and veto others.
Thus far, Inslee has vetoed 27 bills and signed 10 bills. Here's an example of the type of letters Inslee is sending to lawmakers to explain his veto: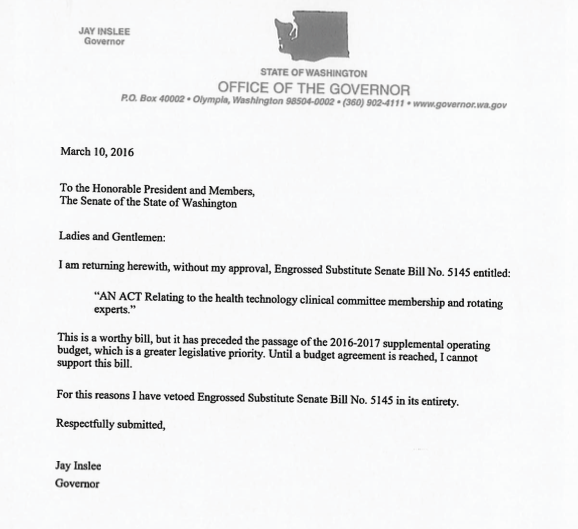 Our green governor is attempting to get himself out of the mistake he made by issuing his ultimatum in the first place. His strategy is to act in a confused manner, following through on his threat in some instances while backing off in others. Ironically, Inslee's actions only make lawmakers' jobs more difficult and adds to the time it will take them to wrap-up legislative proceedings once and for all.
Lawmakers worked together to pass these bills. By vetoing them, Inslee is challenging legislators to take time out of the special session to try and override his veto or to reintroduce/re-pass them.
As Shift pointed out, in the end, Inslee only has himself to blame for the lack of an agreement on the supplemental budget. Just like in every session before, Inslee injected his hyper-partisan agenda and D.C.-style politics in Olympia. From public attacks on Senate Republican leaders to pushing his extreme agenda on legislative proceedings, Inslee has acted like an obstructionist. He continues to act like a "player on the field" rather than a leader.
Inslee's failure to lead is demonstrated by the number of special sessions he has been forced to call. During the course of one term, Inslee will have presided over six special sessions. Comparatively, during the course of two terms, former Gov. Christine Gregoire presided over seven special sessions.
In the past, legislators agreed on budget deals despite Inslee's failed involvement in negotiations. This year is just more of the same.