In a surprise to absolutely no one, presumptive Democrat presidential nominee Hillary Clinton took the time to endorse the union-backed Initiative 1433, a job-killing move which would raise the statewide minimum wage to $13.50 per hour and require employers to provide up to seven days of paid sick leave per year.
Here's what Clinton tweeted: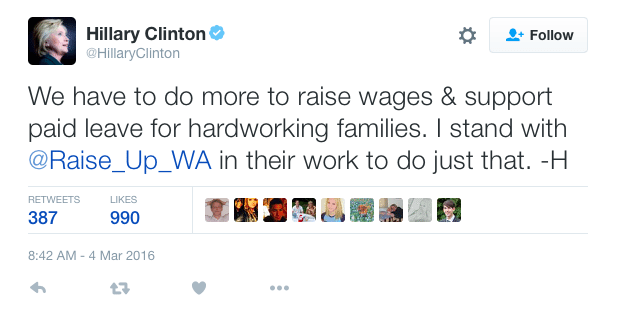 The special interests behind the measure filed it for the November ballot, and plan to kick off signature gathering efforts on Saturday. The initiative needs more than 250,000 valid signatures needed by July to qualify for the ballot.
Clinton has already tried to imitate Bernie Sanders' politics by endorsing a federal minimum-wage increase of $12 an hour.
Last year, a bill to increase the minimum wage to $12 per hour stalled in the Washington Legislature. After the bill failed, backers promised they would bypass lawmakers and file an initiative that would seek an even higher minimum wage (hence I-1433).