Democrat State Senator Cyrus Habib (Kirkland) is running for Lieutenant Governor. This the same senator who — as Shift reported —said that he hoped to eventually pass "a capital-gains tax or an income tax on the rich" when he was running for the Senate in 2014.
Now, after having managed to "serve" almost half a term in the Senate, Habib is taking advantage of not having to give up his seat while pursuing statewide office. However, since he won't just be seeking votes in his relatively liberal legislative district, Habib has reined in publicly advocating the lefty positions he holds dear.
For example, he has remained largely silent on the issue of public charter schools. When the state Senate first voted back in January to pass a bill to save charter schools, Habib was excused from having to take the tough vote (choosing between kids and the Washington Education Association) due to a personal family health matter.
Habib later told liberal blog Publicola, "I would have voted to allow these schools to keep operating."
The Washington Policy Center's Liv Finne confirmed Habib's would-be position on Twitter.
Habib likely never thought he would have to actually vote on the charter schools bill, assuming that House Speaker Frank Chopp would keep it stuck in that chamber. But, due to bi-partisan pressure to put the bill up for a vote, the House managed to pass it (with 10 Democrats breaking ranks with their party and voting for the kids instead of the union).
But, in that process, slight amendments were made to the original bill, which meant it came back to the Senate for final approval. Thus, Habib was given an opportunity to put his money (or, rather, the prospect of campaign funds from the WEA) where his mouth is.
When tested, he failed.
Habib voted against the final bill, despite his previous claim of support for it. Here's the roll call: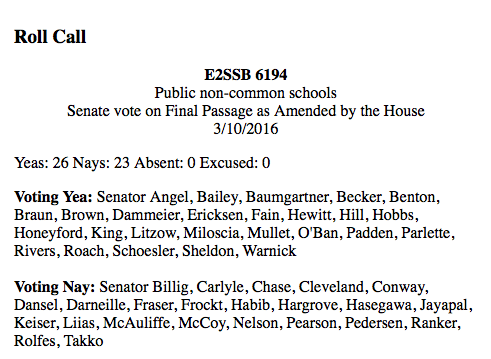 Habib, like so many other Democrats, placed the WEA before underprivileged children. He chose special interests over the future interests of our children. He caved in to the WEA rather than standing up for working families.
And, Habib was rewarded for it.
Over the weekend, Habib received the sole endorsement of the WEA. Habib posted a self-congratulatory announcement on his Facebook page following the endorsement.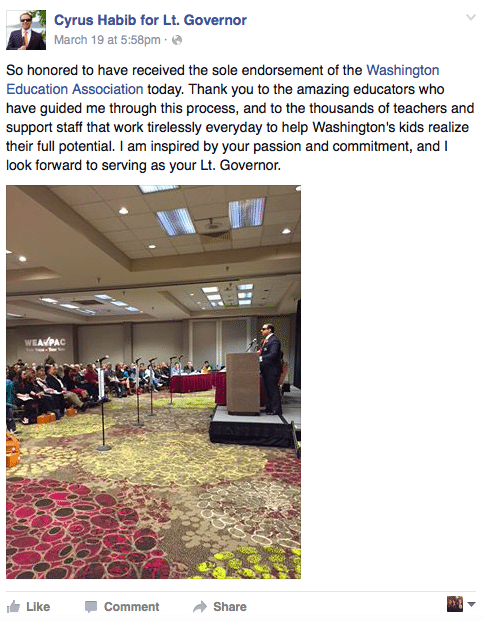 What Habib didn't put on his Facebook page was that he had proved himself to be a double-dealing politician who, when forced to take a stand, will always pick the special interests-driven agenda pushed by liberal groups – because after all, that's where the money is for the Democrats' statewide campaigns.