Governor Jay Inslee ended 2022 posting a tweet which falsely asserts that the state has made "important strides"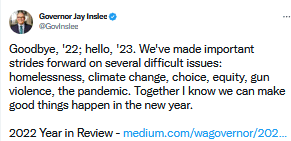 on several issues, yet facts clearly show that things have actually become far worse.
In the tweet the governor states, "Goodbye, '22; hello, '23. We've made important strides forward on several difficult issues: homelessness, climate change, choice, equity, gun violence, the pandemic."
Unfortunately for Governor Inslee, reality does not support his rhetoric.
After Seattle/King County declared homelessness an emergency seven years ago, it still remains a serious issue with thousands of people continuing to suffer on the streets and in makeshift and unsanitary encampments in big cities and rural communities throughout the state. The only "important stride" that has been made is the significant increase in the size and cost of all levels of government, as liberals have selfishly used the crisis to increase the size of the homeless bureaucracy, which is benefitting from the suffering of others. If the state has already made great strides in solving the homelessness problem, then why did the governor just propose spending a whopping $4 billion more on solving it?
Not surprisingly, violent crime continues to rise, as nearly every major community in the state continues to experience record crime due to the failed anti-police measures passed by Democrats at the state level and liberal lawmakers at the local level. Unfortunately, this issue didn't rise to level where Governor Inslee would talk about it, let alone do anything about it.
Of course, talking about an issue all the time doesn't solve it either, thus despite numerous "climate change" measures passed by the Democrats every year since Inslee has been in office, CO2 emissions have virtually climbed every year since 2012.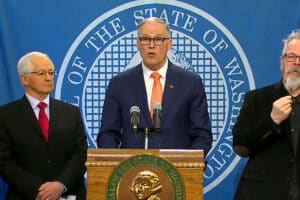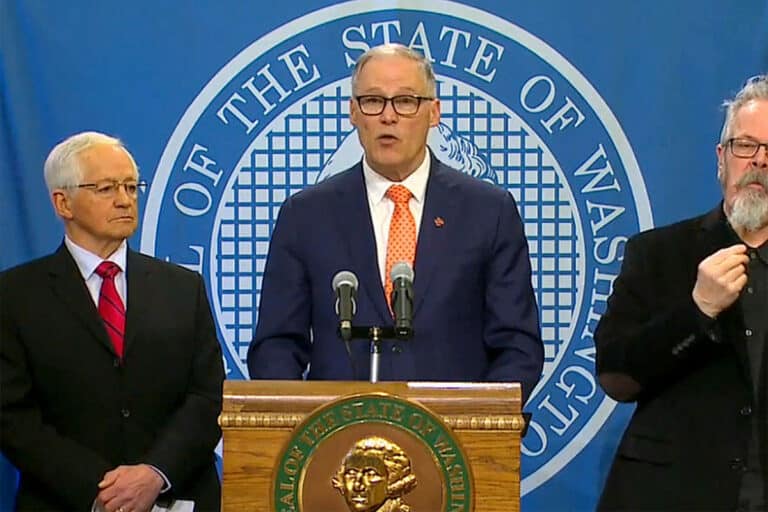 With the pandemic, the governor's unscientific vaccine mandate continues to cause disruptions of the state's ferry system and not enough state-employed road crew members are available to keep the passes clear of snow. Governor Inslee stubbornly refuses to rehire unvaccinated workers despite the experts at the Centers for Disease Control stating that vaccinated and unvaccinated employees can resume working together.
Thus, we may be in a new year, but the governor continues to push the same falsehoods because the members of the state's media are afraid of losing access with the liberal establishment by challenging his many false statements.
It is especially curious that the media refuses to challenge the governor on his many false statements since last year he introduced a proposal to make it a crime for his fellow politicians to make false claims about elections. One would think that if the governor believes he is such a model of honesty that the media would point out the hypocrisy of his many false statements regarding his failed liberal policies.