In a recent op-ed for the Eastside Education Network, Republican state Rep. Chad Magendanz asked a pressing question regarding the recent illegal, "IT'S TIME" teachers' strikes: what are they protesting, exactly? Magendanz,
"The Senate budget proposal the union denounces increases, not decreases, K-12 education funding by 18%, the highest percentage in 25 years. Under that same Senate budget, spending on our public schools would be restored to 47% of the operating budget, the highest percentage in 30 years."
Magandanz goes on to explain what the illegal strikes are really about – the Washington Education Association's (WEA) main complaint is that its union members need bigger pay increases  — an issue he calls important, but points out that it's not the "linchpin of complying with the 2012 Supreme Court's McCleary decision."  Magendanz,
"A bit of background: In 2010, House Bill 2776 enacted a new prototypical school funding model with increased state funding for K-3 class size reductions, all-day kindergarten, student transportation, and materials, supplies and operating costs (MSOC). In its opinion, the Court wasn't concerned so much with the scope of the funding as with the model's timely implementation.
"This year, both House and Senate budgets propose to continue to phase-in that prototypical model, meeting all statutory deadlines, with $1.32 and $1.28 billion appropriations, respectively (the slight difference is due to a technicality in timing for implementing the K-3 class size reductions).  In short, we're right on track to meet that part of the McCleary mandate."
According to Magendanz, there is one important element of the McCleary decision that HB 2776 does not address. That's "the State's reliance on local dollars to support the basic education program." Teacher compensation is the "primary cost driver" for school districts, making up a whopping 83% of their operating expenses. It's the failure to adequately address the cost problem that led to the court's recent contempt ruling.
With the WEA now threatening more strikes in the fall, a relevant question is whether or not overall teacher compensation is competitive. Magendanz,
"Reports commissioned for the Compensation Technical Working Group concluded that "total salaries are competitive in most of the state, and the fringe benefits appear unusually generous." However, local districts have been supplementing state base salaries at an increasing rate so they can offer competitive salaries.
"Both House and Senate budgets enact the I-732 cost-of-living adjustments (COLAs) that were suspended during the Great Recession, with the House adding an additional $153 million on top of voter-approved levels."
So, are supplemental COLAs needed? Magendanz provides the following graph and explanation to answer that particular question.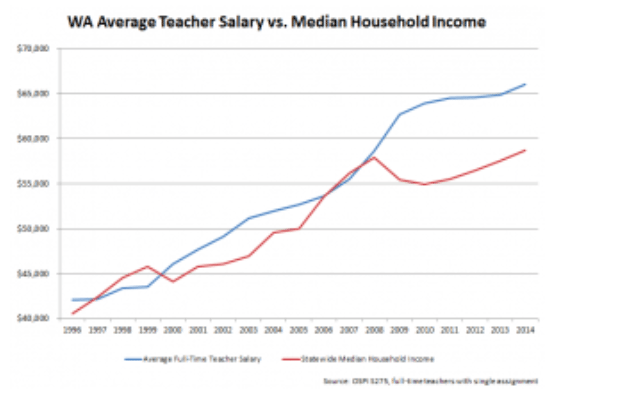 "Two main takeaways from this graph are:
Most households in Washington now make at least $7,354 less than what the average full-time teacher is paid for a 180-day school year.
Most households in Washington suffered greater loss of income during the recession than the average full-time teacher, who still received salary increases each year.
"The McCleary ruling means the state of Washington must pick up the full cost of staff compensation to implement its program of basic education, ending dependence on local levies. This creates a shift of about $2.5 billion per biennium from local school levies to the state in order to have a constitutional funding mechanism. Raising taxes, or imposing new ones, doesn't seem necessary to get the job done."
As Magendanz concludes, what it's really time for is to put the McCleary to bed…  as the state Senate budget does.