Over the weekend, extreme greenies — part of the BreakFreePNW group — camped out on the Burlington Northern Santa Fe train track near Anacortes in an attempt to stop shipments leading to the nearby Shell and Tesoro oil refineries. The protest ended in the arrest of 52 people, who were cited for trespassing. One protestor was also cited for resisting arrest.
Despite the arrests, protest organizers declared success.
Only, it wasn't really a success.
The protest proved to be a mere minor inconvenience for the two oil refineries. Once Shell and Tesoro heard about the protests, they simply rescheduled the shipments.
Some protesters claim that it was a victory in that they managed to "inspire people to speak out about climate change."
But, that's not true either.
You see, not only did the BreakFreePNW protesters trespass when they descended on the train tracks, they made a huge mess and did not clean up after themselves.
Here's a photo of the mess one Facebook user shared to KIRO 7 News: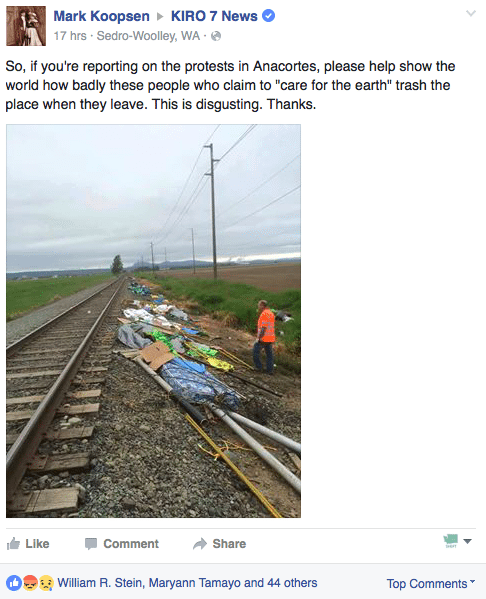 The extreme greenies, supposedly so concerned with the environment, left heaps of trash everywhere — the Anacortes Police Department confirmed BreakFreePNW protesters left the mess. Some have tried to make excuses for the mess, claiming the police arrests may not have given them time to clean up after themselves.
Unfortunately for BreakFreePNW's public image, that's not the case. Anacortes police gave them ample time to gather their belonging and clean up before arresting them.
This isn't the first time extreme greenies did not clean up the mess they made while protesting. Via MyNorthwest.com:
"In May of 2015, activists – or kayaktivists – protesting Shell oil and the impacts drilling has on the environment left behind material used to anchor their protest barge in a popular Seattle dive park. 'The People's Platform,' which was parked over the dive park near Seacrest Park, was moved. However, divers later found cement blocks, cables, and chains strewn about the popular spot that octopuses frequent."
What great examples of environmental stewardship — perhaps would-be "green" philosophers like Kathleen Dean Moore should hold off on celebrating the efforts of the greenies. By every indication, extreme greenies came "by land and by sea, by bicycle and indigenous canoe" to "gather near the Tesoro and Shell refineries"… and deposit piles and piles of their trash.