Jay Inslee's Department of Ecology has produced a list of the companies it has identified as the "biggest climate polluters." As Shift reported, under the new carbon rules that Inslee thinks he can impose on the state using executive authority, the industries deemed as "large emitters" would be required to reduce carbon emissions by 5 percent every three years.
The so-called "Clean Air Rule", would initially apply to about 24 manufacturing plants, refineries, power plants, and natural gas distributors. As the threshold is lowered over time, many more facilities would be covered by the rules.
The top ten companies that would be impacted by Inslee's carbon rule include,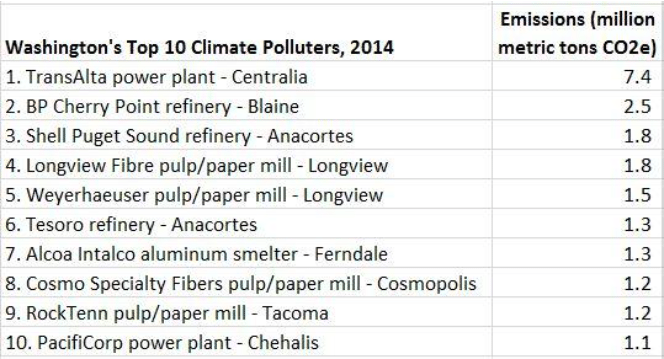 Alcoa plans to close operations in our state
Notably, Alcoa– the world's third largest producer of aluminum—made Ecology's list. Of course, Alcoa already announced its intention to close factories in Ferndale and Wenatchee, resulting in thousands of lost jobs, due in part to the impending threat of Inslee's extreme "green" carbon rules and higher energy costs.
Energy experts have calculated that, under Inslee's rules, Alcoa would face additional costs of $650,000/year for its Wenatchee plant and $2,278,000/year for its Ferndale plant. Additionally, Alcoa's costs would only increase as regulations become stricter after 2020 when experts predict prices in California will increase to $30 per ton. Based on that projection, Alcoa would be looking at additional annual costs of $1.5 million in Wenatchee and $5.25 million in Ferndale.
An Ecology official demonstrated a concerning degree of cluelessness about the consequences of the new regulations when he gave the Alcoa example at a legislative hearing. As if offering some sort of consolation, the official said the company could "generate and sell credits" as part of a recently announced plan to shut down aluminum smelters in Wenatchee and Ferndale.
GOP state Senator Doug Ericksen wasn't pleased with the example. Via the Olympian,
"Ericksen said that would give companies incentive to move production to other places where energy isn't as green as in Washington, with its cheap and abundant hydropower, driving up global emissions. The Republican criticized Inslee, a Democrat, for bypassing the legislative branch through administrative action, much as Obama did at the federal level."
Inslee's carbon rules would hurt economy/instigate lawsuit
In his response, Ericksen hit on the most concerning aspects of the regulatory rules: (1) the inevitable blow to our state's economy and (2) the clear overreach of power by Inslee.
It is for good reason that Todd Myers of the Washington Policy Center recently referred to the Inslee's latest "green" scheme as the "most backward approach to this issue that can be imagined." Myers stated, "Assuming you want to reduce carbon, regulation is the least rationale and most expensive way to do it."
The problem, according to Myers, is that the plan would reward companies for suspending operations in Washington State and selling their carbon credits. "[The DOE's] plan actually pays for taking jobs overseas, but punishes for keeping jobs here. If you stay, your costs go up," he said.
As far as bypassing the legislative process, Inslee is relying on a statute that state Attorney General Bob Ferguson—notably, a Democrat—deemed has no teeth in order to justify his ridiculous carbon rule. Inslee often points to a 2008 statute (RCW 70.235.020) which says that Washington State "shall limit" greenhouse gas emissions and reduce them to "1990 levels by 2020 and to half that level by 2050." An in-depth analysis conducted by the Attorney General's office found the statute to be "non-binding."
Ericksen does not believe Inslee has the authority "to pursue those regulations without the Legislature's approval." He plans to pursue a legal challenge to the carbon rule.
GOP proposed bill to prevent Inslee's carbon rules
For these reasons, Ericksen has proposed a bill that would slow Inslee's attempt to jam through a carbon rule by executive action by "prohibiting state regulators from adopting rules that limit greenhouse gas emissions without legislative direction." Ericksen's bill, if passed, could keep Inslee from raising energy prices throughout the state by himself.
Of course, in the end, the need for Inslee to resort to executive action comes after his embarrassing failure to even gain support from members of his own party for his cap-and-tax scheme during the 2015 legislative session. Inslee's failure to work with either party in the state Legislature is, ultimately, an example of his stunning inability to abandon his DC-style, hyper-partisan political approach even though he is no longer in Congress.