Several Republican lawmakers and candidates expressed their amazement of the recent abrupt flip-flop performed by many Washington State Democrat politicians on public safety issues.  Almost overnight, Democrat officials are suddenly acting as if they are law enforcement's best friend, after spending the past two years passing partisan anti-police legislation at nearly every level of government.
Obviously the Democrats are becoming nervous over poll numbers which reveal that many of their incumbents are in serious trouble in this November's elections (especially in swing suburban districts) and their pro-criminal policies (along with inflation and higher taxes) are the prime reasons for the voters' frustrations with liberal lawmakers.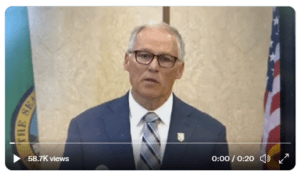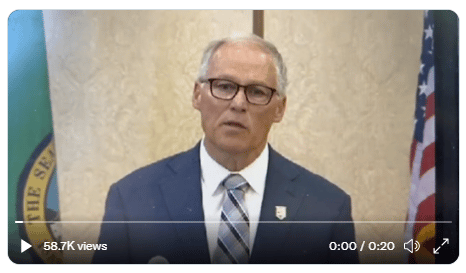 The most notable flip-flop came from Governor Jay Inslee last week, when he shocked everyone by stating "This defund the police movement, I don't agree with it."  Many Republicans noted that this comment should have been made in July 2020, and does almost no good to be made in July 2022.
The governor should have made this statement during his now infamous press conference on June 10, 2020, when he was asked about the violent anti-police riots conducted by liberal activists who had just taken over portions of Seattle's Capitol Hill.  If the governor had demonstrated some backbone against the rioters instead of meekly saying "That's news to me," there would be fewer crime victims today who have suffered because Democrat politicians caved into the demands of the violent radicals.
Remember, not one elected Democrat in Washington State has yet to condemn the political violence committed by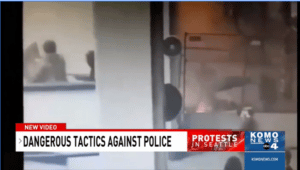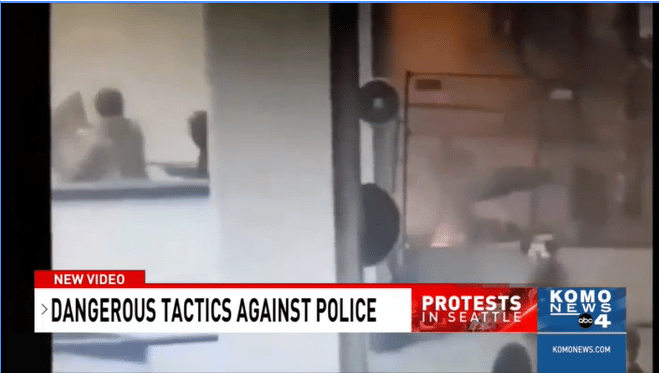 liberal activists that took place in Seattle in 2020.  Even an attempted mass murder of police officers brought silence from Democrat politicians who chose not to take a stand against political violence if it is conducted by fellow liberals.
Representative Jim Walsh (R-Aberdeen) pointed out in a Facebook post that the governor and other Democrats' recent pro-police comments run contrary to their actions over the past couple of years.  The Democrats' anti-police agenda is not just one or two isolated bills, but more than 10 different major pieces of legislation passed by the Democrats and signed into law by Governor Inslee. From severely limiting law enforcement's ability to pursue suspected criminals to decriminalizing possession of lethal hard drugs, the Democrats' actions have clearly made Washington State a more comfortable place to be a criminal and their sudden pro-police comments are simply an election year gimmick.
Senator Republican Leader John Braun (Centralia) was highly suspicious of the governor's statements by pointing out Inslee had numerous opportunities to demonstrate he was against the defund the police movement but he failed to act.  "(T)he governor was nowhere to be seen months ago when we already knew Washington had the fewest law-enforcement officers per capita in the nation, and his allies in the Legislature were blocking our bill to help communities rebuild their depleted law-enforcement agencies."
If the voters are fooled by these liberal politicians' comments and the Democrats keep control of the legislature in 2023, they will likely go back to passing more pro-criminal laws, such as Representatives Tarra Simmons (D – Bremerton) and David Hackney's (D – Tukwila) bill (HB – 1692) to reduce the penalty for those convicted of drive-by shootings
DEMOCRAT'S ANTI-POLICE EFFORTS EVIDENTLY HELPED RACISTS
House Republican Leader JT Wilcox (Yelm) pointed out the irony of the Washington State Democrat Party Chair pushing the false narrative that crime is not really a problem while at the same time Democrat incumbent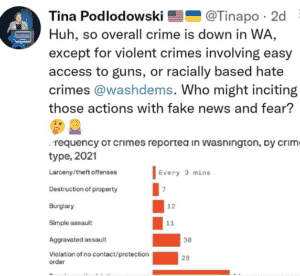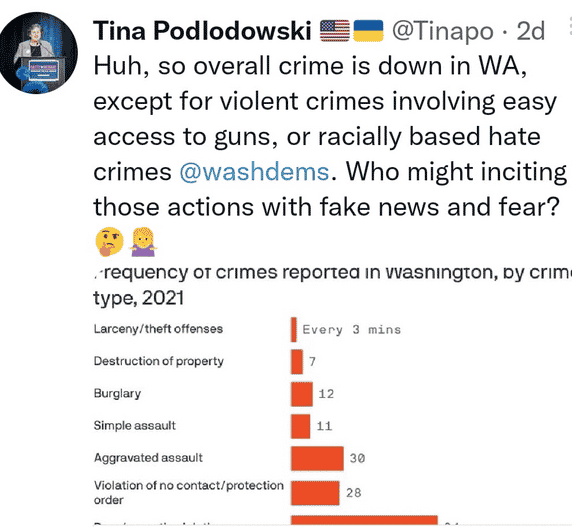 lawmakers are suddenly talking tough on crime.  Representative Wilcox posted an image of a tweet by Washington State Democrat Chair Tina Podlodowski downplaying the increase in murders in Washington by falsely stating they are mostly "racially based hate crimes" and because of "easy access to guns."  Wilcox suggested the Democrat party staff should hold a Zoom meeting with their candidates to make sure they are not sending contradictory messages.
Podlodowski's tweet raises other questions.  If all these violent crimes are being committed by "racists" (which is a very strange interpretation of the crime statistics), then why did the Democrats pass so many bills which made it more difficult for police to arrest these "racists?"  And, why did the Democrats pass a bill to restore the right to vote to these "racists" before they had completed their sentences?  And, why did the Democrats reduce the sentences of these "racists" who committed crimes with firearms?  Maybe Democrat Senator Mona Das and the Black political consultants were correct when they claimed that, behind closed doors, those who lead the Democrat party are racist and sexist.