The majority of Democrats in Olympia did everything in their power to prevent a bill that would save public charter schools from passing the Legislature this year. It remains to be seen whether Governor Jay Inslee will reward them for their failed effort by now vetoing the bill that finally passed earlier this week, with bi-partisan support in each chamber.
Of course, the Democrats' hostility toward voter-approved charter schools has a lot to do with their extreme desire to please the Washington Education Association (WEA), a multi-million dollar campaign donor to Inslee and other liberals.
Interestingly enough, a handful of Democrat legislators who announced their candidacy for other offices used the public charter school fix as an opportunity to pander to the WEA and other special interest groups.
Take a tweet from Democrat State Representative Jim Moeller—the number three Democrat in the state House and now a candidate for Lt. Governor—as an example:

Or, Democrat state Representative Chris Reykdal, who needs the unions' campaign cash in his race for State Superintendent of Public Instruction: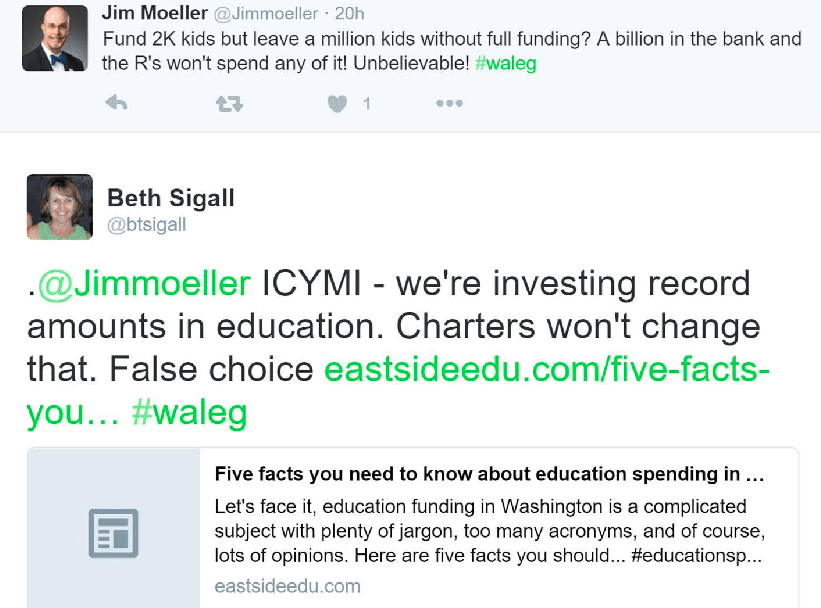 Both Moeller and Reykdal's arguments are ridiculous. As Shift point out, the fact that Democrats like Reykdal wanted to prevent over 1,300 charter school students from continuing to attend their schools is what's truly "sad." Public charter schools offer underprivileged students an advantage they otherwise would not have in a system controlled by the WEA.
Democrats should support these children, not try to destroy their opportunities, as was consistently pointed out by Democrat State Representative Eric Pettigrew from South Seattle.
Moeller's argument, on the other hand, is a false choice. As an education activist pointed out to the Vancouver liberal, it's not about public charter schools vs. public schools. Our state has re-prioritized public education spending in the last three years, thanks to the leadership of the Senate Republican majority. Charter schools do not jeopardize that funding.
Also, just because our state has $1 billion in a rainy-day fund, it doesn't mean (as Moeller suggests) that we should spend it. Moeller's tweet is just another example of Democrat's irresponsible leadership – and failure to understand basic economics.
These are just two of the Democrat legislators that think they deserve promotion to statewide office, and are counting on the WEA's money to get them there.