Democrat state Senator Pramila Jayapal recently posted the following reaction to story in the Seattle Times on equity gaps in the Seattle School District,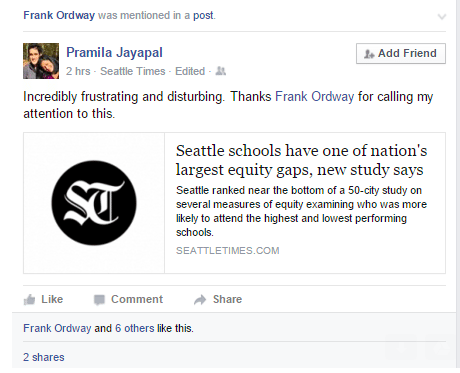 Never mind that Jayapal's reaction is a fake one, she has been a community activist for years and yet claims to have just had her "attention" called to a problem known to anyone paying attention. The real problem is her reaction is also hypocritical. You see, Jayapal is one of the many Democrats who caters to the Washington Education Association (WEA) and opposes charter schools—the very system that seeks to remedy the problem she claims to be so upset by.
Charter schools offer underprivileged students an advantage they otherwise would not have in a system controlled by the WEA. Yet, Democrats like Jayapal oppose them, because they like WEA campaign cash. These liberals prefer to advocate for the status-quo system, exacerbating existing gaps. Adding insult to injury, they then pretend to be outraged by the problem.