The Seattle Times attempts to promote a massive conspiracy of racial discrimination among the 39 counties election departments while burying the fact that the Democrat Washington State Auditor found there is absolutely no basis for that allegation.
To promote a political narrative of massive racial discrimination, the Seattle Times irresponsibly posted a headline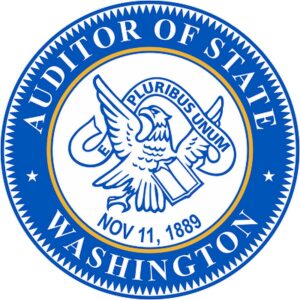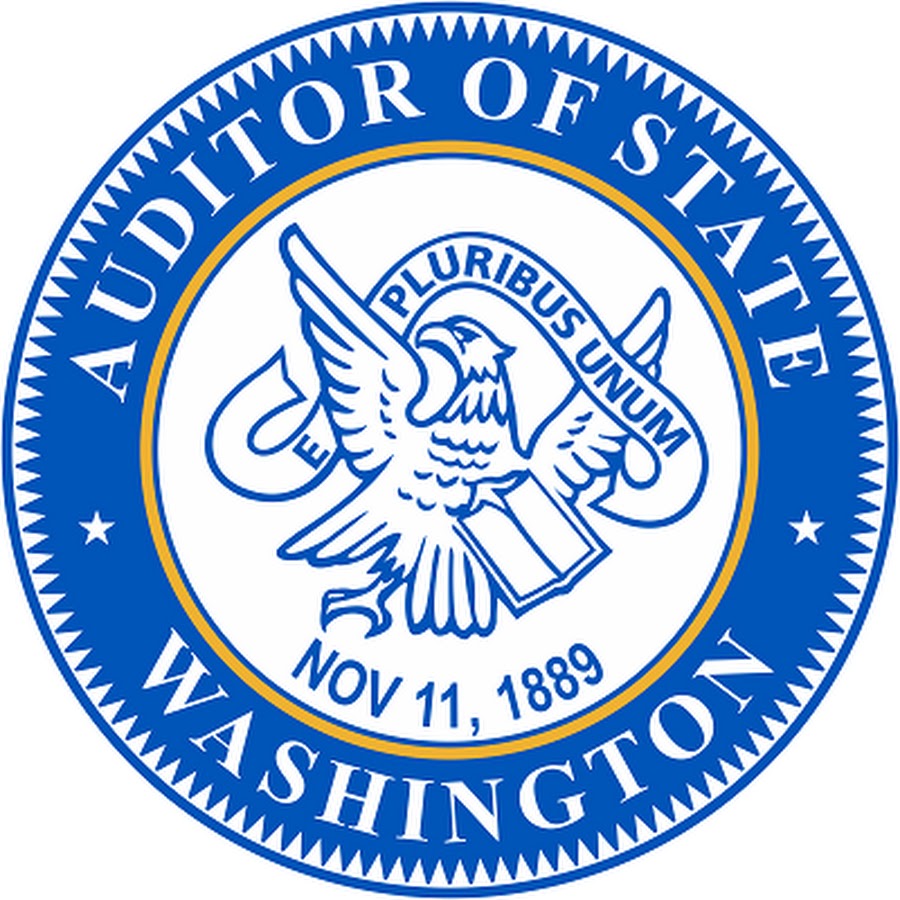 that claimed that people of color, along with younger voters and men, had their ballots rejected at a high level. Yet in the article's 18th paragraph the writer finally mentions the key fact that the Washington State Auditor Office found "no evidence of bias in the acceptance or rejection of ballots."  Also an audit of the rejected ballots (due to signature verification problems) found that nearly 99% of them were disallowed for totally appropriate reasons.
Thus since the story states that "fewer than 1% of ballots cast in the 2020 general election were rejected," and that only 1% of the rejected ballots might not have been properly disallowed, the state audit is affirming that less than 0.01% of the 4,115,585 ballots cast in the 2020 elections (or less than 400 ballots statewide) might have been rejected inappropriately, and states there was no evidence that discrimination was involved in those few ballots being rejected.
Democrat party organizations selfishly claim that racial discrimination is omnipresent in all aspects of our society (maybe this is because Democrat politicians and political operatives keep claiming racism and sexism exists within Democrat groups).  They make discrimination assertions while saying that only a larger and more expensive government (funded by even higher taxes) is the only cure to solving racial inequalities.  (Which leads to the interesting questions, if Democrats can't even stop racial discriminations within their own party, how can we expect them to lead government efforts to cure discrimination within our society?)
Since massive discrimination is a political narrative liberals are constantly pushing, Washington State Democrat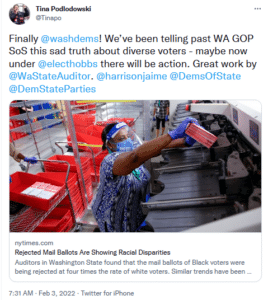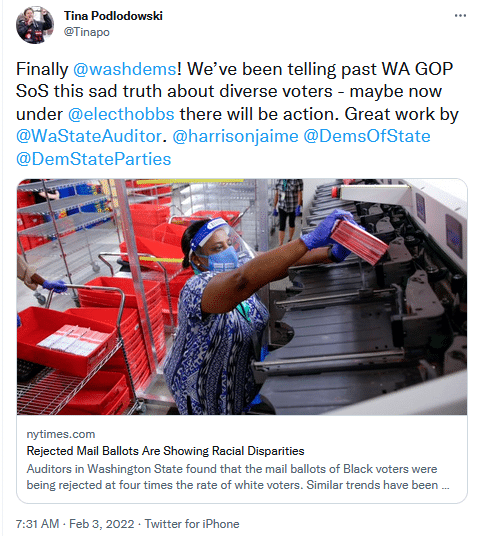 Party Chair Tina Podlodowski took to Twitter immediately after the Times posted its story. The Chair tweeted that they have had been telling former Republican Secretary of State Kim Wyman that there was massive racial bias in our election system and that this audit and article proved they were right.  Shift replied to Chair Podlodowski's tweet saying that maybe she should actually read the audit for it clearly stated that the auditor's staff found "no evidence of bias in the acceptance or rejection of ballots."
(Quick side question: If a Democrat elected official repeated Chair Podlodowski's false claim of discrimination in our election process, would they be subject to Governor Inslee's ridiculous, and likely unconstitutional proposal to fine candidates and elected lawmakers for lying about the election process???)
While we should continue to seek perfection in our election process (and this can be done through slight improvements in election departments' outreach efforts to those who have sent in questionable ballots), the audit showed more than a 99.99% success rate in the signature verification process and no evidence of bias. Shouldn't this have been the headline?
This is a very rare success rate for any government endeavor, especially when compared to the dismal success rates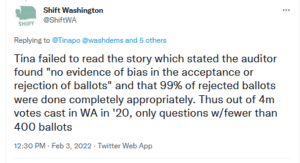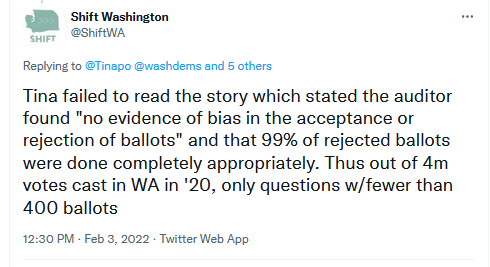 of nearly all of Governor Inslee's actions. From his climate policies dramatically failing to reduce carbon emissions levels to his Department of Health failing to reach even one-third of their contact tracing goals (thus allowing the spread of COVID to continue), we have come to expect poor performance whenever state government is involved.
We should be pleased that the Democrat state auditor found "no evidence of bias in the acceptance or rejection of ballots."  We should be praising the efforts of former Secretary of State Wyman (who very easily defeated Podlodowski in 2016) and the election officials in all 39 counties for doing their jobs well to ensure that our elections are conducted fairly, and that no voter was discriminated against in the process.