Democrats and their labor supporters have a rather dysfunctional relationship. Labor unions pump millions of dollars into Democrats' campaigns election year after election year. In return, they expect Democrats to support their every whim. And, for the most part, Democrats oblige.
But, every now and again, there arise labor disputes in which union demands are so absurd that not even Democrats can get away with relenting to them without considerable political risk. So, Democrats opt on the side of caution and risk the ire of the unions instead. Unfortunately for Democrats, union members have long memories. That's where the dysfunction kicks in.
Jay Inslee felt the effects of the dysfunction when—in what became an embarrassing incident for our green governor—the Washington State Labor Council (WSLC) disinvited him from attending its 2015 convention and addressing attendees as the keynote speaker.
The WSLC's snub came despite the fact that Inslee risked quite a lot to support unions—particularly those that pumped millions into his gubernatorial campaign in 2012—during the last legislative cycle. Certainly, Inslee fought tooth and nail for the state employee and teacher pay raises he negotiated with union leaders in secret. So where did it all go wrong for Inslee?
By every indication, Inslee followed the formula detailed above without incident: unions gave millions and he returned the favor with taxpayer dollars. Indeed, the snub has nothing to do with the 2015 legislative session—or anything Inslee did in 2014 for that matter. Rather, this particular snub has a lot to do with unions' long memories and Inslee's re-action to a labor dispute that occurred back in 2013.
The snub occurred as a result of the Machinists' lingering resentment over the tax breaks Boeing received. Apparently, the Machinists are not over Inslee's role in securing Boeing's tax break and the pressure he placed on union members to vote on a contract that ended defined-benefit pension plans.
Emails obtained via a public records request reveal just how angry Machinist union members were about the "pressure" Inslee placed on them. Here are two: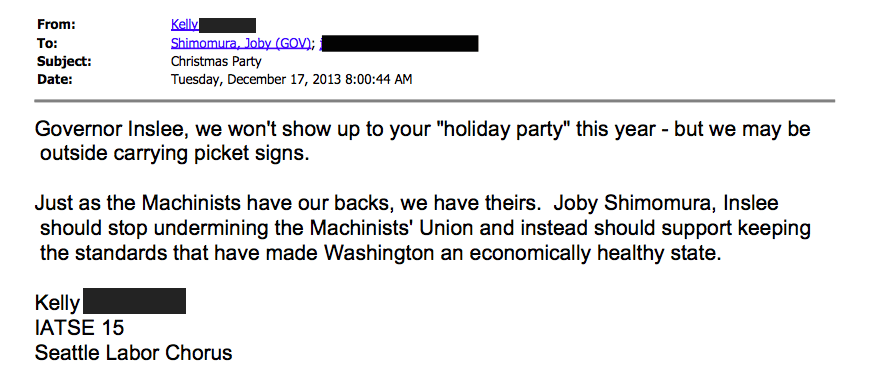 Inslee isn't the only Democrat who took heat from labor unions for not catering to their whims. Back in March, a fringe group of the Washington Education Association (WEA) appeared to be on some of type— largely unpublicized—warpath in a clear attempt to intimidate the Democrats whom their union financially supported to back full funding for money-grab initiative, I-1351.
Hijacking the WEA's "IT'S TIME" campaign, a blog called Organizing Educators—presumably run by WEA members—put together its own "IT'S TIME" list. Essentially, the list champions retaliation against Democrat lawmakers who did not back full funding on I-1351. Here's just a few things the blog believes "IT'S TIME" to do:
"IT'S TIME to quit playing these insider games about who is electable and who is a lessor of two evil – did s/he help or stand by while our kids were hurt? How many people on WEA-PAC's 2014 endorsement page betrayed us working stiffs with their votes for tying test scores to junk evaluations in SB5748? (Senators Kohl-Welles, Habib and Frockt!!)"
"IT'S TIME 4-3-2 IS NEEDED FROM YOU.
IF our unions are going to matter to the decision makers, the decision makers are going to have to be scared of us. When they're scared of us, they'll work with us. When they work us, they'll stop pulling the kind of garbage they've pulled on Washington State educators over the last 5+ years: denial of citizen approved cost of living raises, denial of citizen approved smaller classes sizes, a multi-billion dollar Boeing give away in the fall of 2013 in an emergency 3 day session.
"They'll be scared of us when 4 times a year, during 1 of the 3 important political seasons of the year, each of us does something political for at least 2 hours."
These WEA members are unhinged—there's no doubt about that. Democrat state Senators Jeanne Kohl-Welles, Cyrus Habib and David Frockt, you've been warned. Notice, they too are still upset over the whole Boeing tax cuts dispute.
Though the blog uses the broad term "decision makers" to make a point, the only people who have to be "scared" of the WEA or any other union are Democrats. After all, it's Democrats who stand to lose funding if they provoke the ire of big labor. And, it's Democrats who will be impacted by any type of political referendum to how unions endorse candidates. That's because it's Democrats who unions will continue to support no matter how angry they become—let's face it, you can't get Democrats much further to the left than the majority of those currently in the Washington state Legislature.
Therein lies the dysfunction of it all. The relationship between Democrats and big labor will, no doubt, persist. The question is, who will come out on top?