Democrat Congresswoman Suzan DelBene really wants to reach 5,000 individual online donations for her re-election campaign by today. The problem is her campaign doesn't quite seem to know how many more donors they need to reach 5,000 donors.
Check out this screen shot of a fundraising email DelBene's campaign sent out: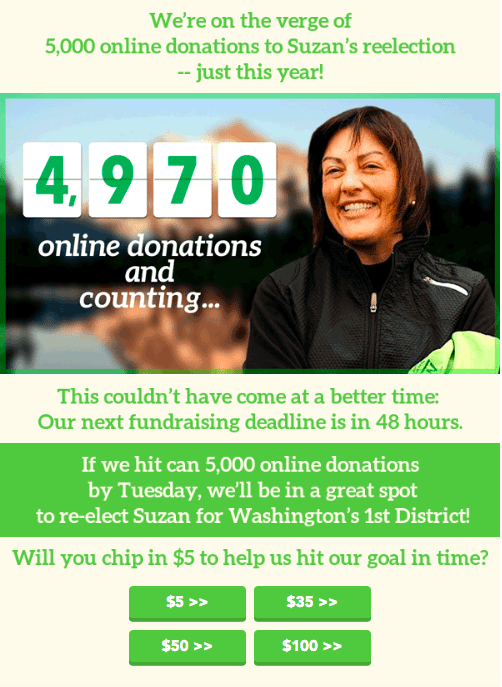 The countdown clock starts at 4,970, which means her campaign needs 30 more donors to reach its goal. Now check out this screen shot of a fundraising email sent out with the previous email attached:

All of a sudden, DelBene's campaign now needs 74 donors… interesting.
Cards Against Humanity, the company known for creating the game with the same name, took their entire store offline on Black Friday and asked for people to give them $5 for nothing in return. A whopping 11,248 people gave the company $5, and 1,199 people gave it more than $5 by filling out the form provided more than once. According to the company, one enthusiastic fan gave as much as $100. In the end, the company made a profit of $71,145… which employees spent on themselves.
Yet, DelBene—a millionaire who bought her seat in Congress in 2012 after losing a 2010 election—can't seem to get 5,000 people to donate to her campaign. Perhaps the public has caught wind of the fact that DelBene is just another big-government-loving minion of the Democrat Party – with a campaign that can't count very well.