The 2019 election brought fiscal responsibility to many city and county governments across Washington. Leading the pack is the City of Camas, which not only shot down an expensive public works project, they also voted out the mayor who proposed it with a successful write-in campaign.
Camas is a suburb community in the Portland/Vancouver area with a population of 24,000.  It is located on the Columbia River a little over five miles east of Vancouver.
It began in 2018 when the city decided not to re-open its community pool due to the 64-year old facility being out of compliance with health and safety codes.  Estimates to renovate the facility were approximately $2 million.
Instead of simply updating the pool, Camas elected officials and administrators began to consider other options.   As a result, a $2 million dollar pool renovation became a $72 million community center with an indoor pool and gym.  The city also tagged on an additional $6 million for three sports fields renovations and placed the $78 million dollar bond levy onto the November ballot.
Estimate for the 20-year bond on the $78 million would be an annual property tax increase of $474 on homes valued at $464,000.  This gave many in Camas a severe case of sticker shock and many wondered how their city government turned $2 million to refurbish a pool into a $78 million bond levy that was going to impact people's finances for 20 years.
The community became very active to first defeat the measure (Proposition 2 on the ballot) and then to replace those who believed this extravagance was the proper way to conduct government business.  A No on Proposition 2 campaign was formed, but unfortunately it was too late to have a candidate's name included on the ballot to take on the incumbent mayor, Shannon Turk.  Thus, three write-in campaigns for mayor were announced.
Barry McDonnel started his write in campaign a month before the election and only a week before ballots were mailed to 15,000 Camas voters.  The campaign not only needed to promote his candidacy but also had to inform voters of the correct process for voting for a write in candidate.
Election night brought two pieces of good news to those who wanted to reign in their local government in Camas.  First was the expected news that Proposition 2 was losing by an overwhelming 90% – 10% margin.  What surprised many people was that Camas' incumbent mayor only had 41% of the vote and the rest were for write-in candidates.  The question became, did any of the three announced opponents manage to surpass Turk's vote totals.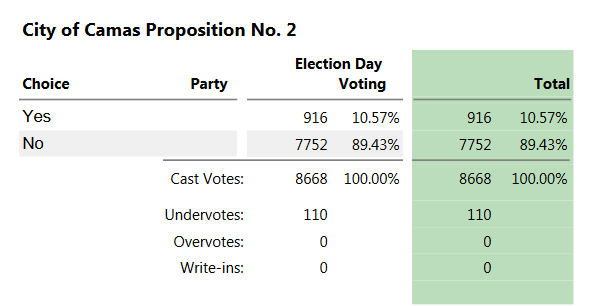 This week, that question was answered when Clark County released the write-in totals, and Barry McDonnell received 53% of the total vote.  McDonell will be sworn in as the new mayor of Camas on November 26th.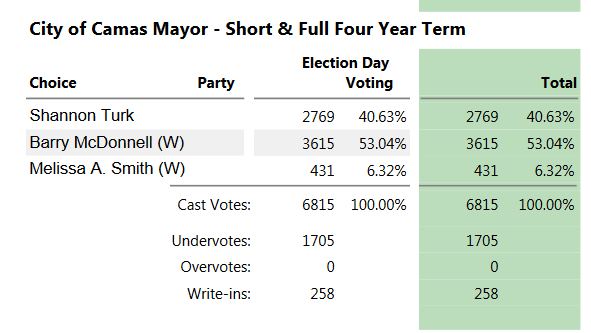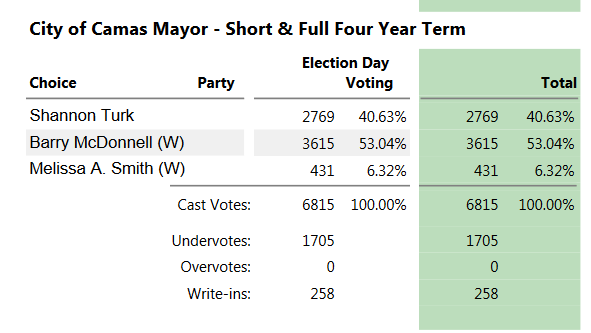 The Camas story illustrates the power of the people to reign in government when officials stop listening to the needs of the taxpayers.