Shift's Newsmaker Interview is with 29th Legislative District (Tacoma & Central Pierce County) Republican House candidate Brett Johnson who is taking on controversial two-term Democrat Representative Melanie Morgan.  Last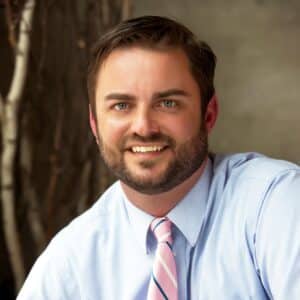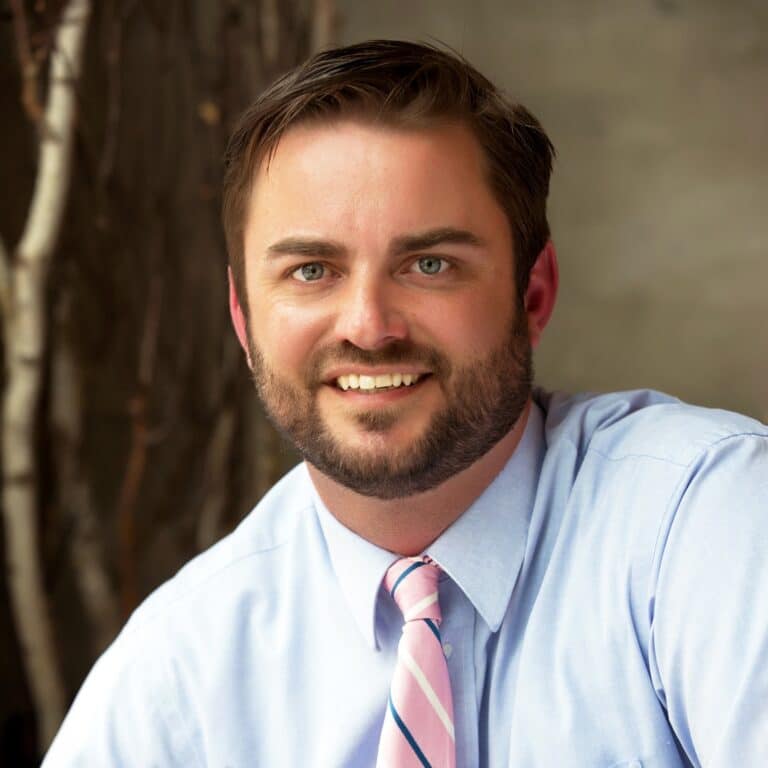 week the Chief Clerk of the House of Representative released an independent report which found that Representative Morgan had "engaged in abusive and bullying conduct" in her role as Chair of the Social Equity in Cannabis Task Force.  
Johnson is an Air Force veteran and a small business owner. In his interview, Johnson provides his thoughts on the just released investigation on the unprofessional conduct of his incumbent opponent.  As violent crime continues to break records in Tacoma, Johnson states his top priority will be to repeal Democrat bills "which have hampered law enforcement." He states he is hearing the financial concerns of his neighbors and he supports tax relief which will help those who are most vulnerable. Johnson calls for repeal of the Democrats' poorly developed Long-Term Care payroll tax. Finally he states that an autobiography written by a NCAA Basketball Hall of Fame coach has been his favorite book for a longtime.
First, please tell Shift readers about yourself and why you have chosen to run for the Washington State House of Representatives.
I'm a nearly lifelong resident of Tacoma.  After high school I left the area for what turned into a 10 year journey around the country including an enlistment in the Air Force as an Air Traffic Controller, an appointment as an Air Traffic Control Specialist in the Federal Aviation Administration, and a 1 year contract as a civilian Air Traffic Controller at Kandahar NATO Air Base, Afghanistan.  Since returning home in 2010 I've been a small business owner operating out of the building that was once my grandfather's kitchen and bath showroom.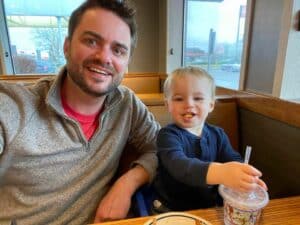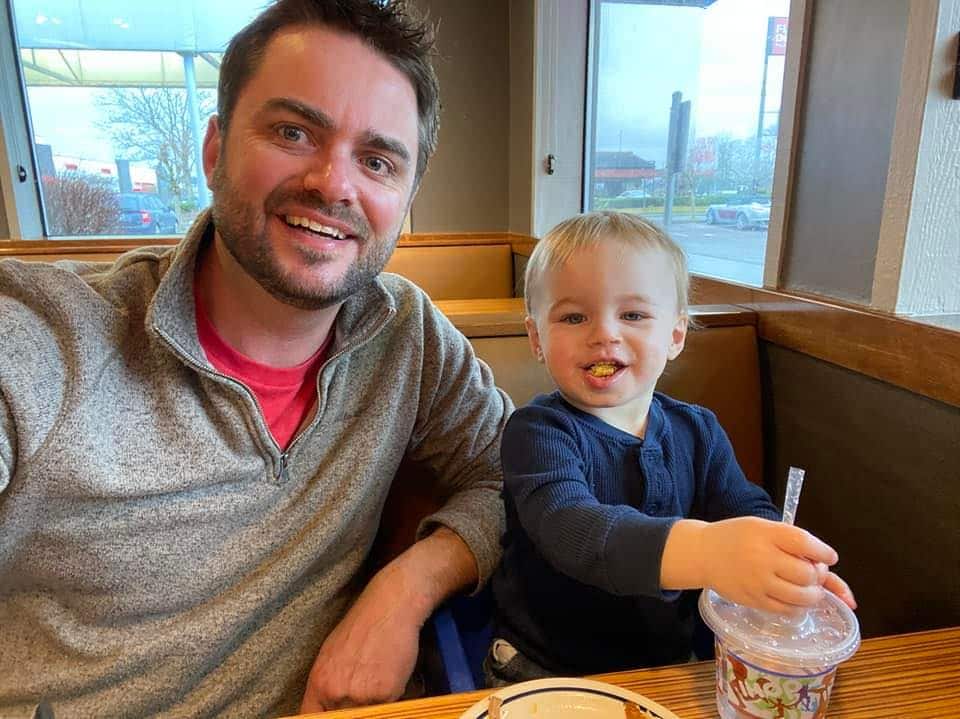 Over the past 12 years I've watched a neighborhood that has been less than stellar my whole life deteriorate into a place I don't recognize.  In 2019 encampments and crime became so bad I was called to action.  I ran for Tacoma City Council in 2021 for an at large seat.  I was not successful, but felt that I learned what it would take to have a winning campaign in Tacoma.
After the election I became involved with a grassroots organization called "Tacoma Safe" where I successfully advocated for restoring & bolstering Tacoma Police funding as well as worked with city and county officials on encampments, housing, mental health, & addiction.
Through my work with Tacoma Safe I learned that most of the issues that compelled me to run for City Council were in fact State issues.  I'm now applying lessons learned and aim to be the first Republican in 59 years to hold a 29th house seat.
An independent investigation found that your opponent, incumbent Representative Melanie Morgan "engaged in abusive and bullying conduct" and took retaliatory actions against a state employee after her conduct was reported. This behavior occurred when she was Chair of the Social Equity in Cannabis Task Force. What are your thoughts on the investigation's report, and have you heard any opinions from constituents regarding her conduct?
Having spent the past 12 years as an employer this investigation is alarming.  It's incredibly disappointing that a person elected to represent voters would conduct themselves in this manner.  How can a representative be effective when they create environments as described in the report?  On the campaign trail I've heard stories from constituents, and virtually everyone whom a 29th representative might come in contact sharing similar experiences consistent with the investigation's report.
Unfortunately, Tacoma and Pierce County has been negatively impacted by the Democrats' anti-police legislation with Tacoma breaking records for murders and stolen vehicles. If elected, what would you do to make your community safer?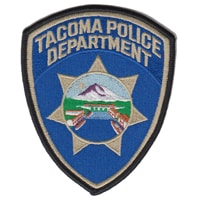 My highest priorities in the next session, if elected, are working to repeal the two house bills and the senate bill which have hampered law enforcement so much.  I would also like to sponsor legislation that mandates jail operators in WA take DOC warrants regardless of how much the DOC is paying.  Additionally, restoring capacity in the civil side of Western State Hospital and creating more robust substance abuse treatment options are all critical to restoring safety and reducing crime.
Nearly all states which had surplus revenues, provided tax relief to its citizens, except Washington.  Would you have supported tax relief, and if so, which tax would you suspend or reduce?
Yes!  Our most vulnerable members of our community are being punished by bad policy coming from Olympia.  I believe there are opportunities for tax reductions or suspensions in the Gas Tax, Sales Tax, Property Tax, and B&O tax.  Residents and businesses are being crushed by rising costs, and it seems to fall on deaf ears in Olympia.  I hear you LOUD AND CLEAR!
The Democrats pushed the implementation of their already broke Long-Term Care plan and payroll tax until after the 2023 legislative session.  What are your thoughts on this plan/tax and would you support repealing it before it begins?
I believe this needs to be repealed immediately.  Any program that is not sustainable before its implementation should not be implemented.
What is your favorite book?  Why? 
"They Call Me Coach" by John Wooden. I read it in high school, and it has stuck with me since.  The stories, lessons, and philosophies covered have been useful for me throughout my adult life in nearly every endeavor.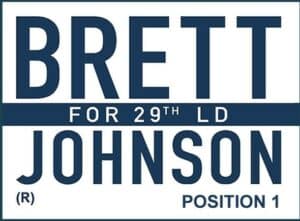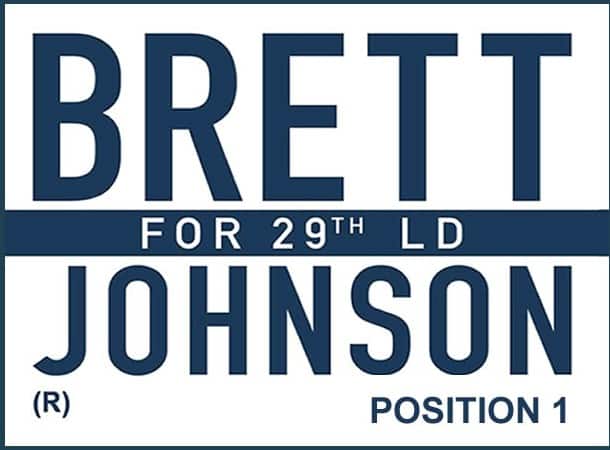 For more information on Brett Johnson and his campaign for the House of Representatives, please visit his campaign website or follow his campaign on Facebook.