Seattle progressives are in a collective panic after Jeff Bezos dropped an additional $1 million in campaign funds for the more business-friendly candidates. Amazon's donation to the no-limit Seattle Chamber of Commerce Pac, Civic Alliance for a Sound Economy (CASE), brings their total aggregate contributions to $1.45 million.
A statement by Amazon's spokesman Aaron Toso said,
"We are contributing to this election because we care deeply about the future of Seattle. We believe it is critical that our hometown has a city council that is focused on pragmatic solutions to our shared challenges in transportation, homelessness, climate change and public safety."
CASE is supporting the following candidates:
Amazon's bid to flip the election takes aim at socialist candidates Kshama Sawant, Lisa Herbold, Shaun Scott and Tammy Morales. Sawant immediately took to the internet to declare an emergency, writing on her campaign site: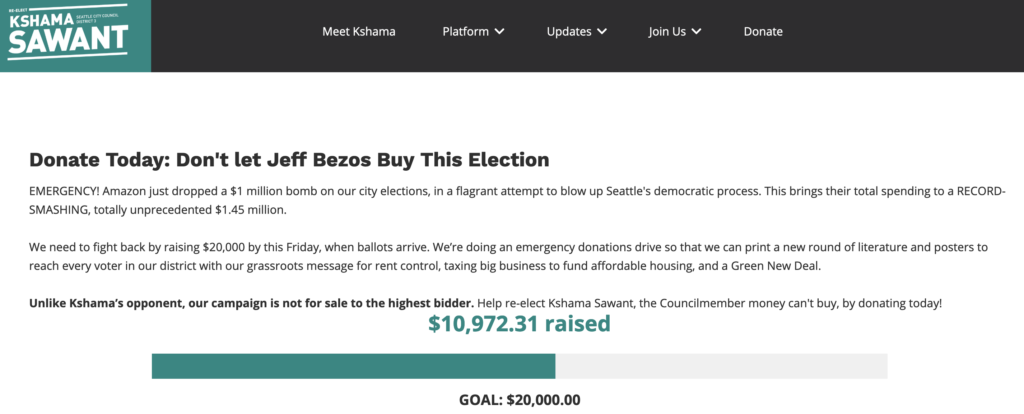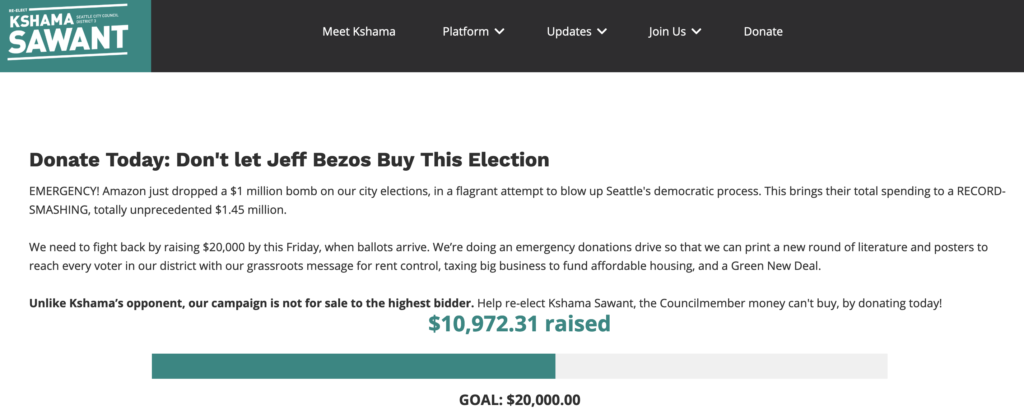 #Amazon is attempting a hostile takeover of Seattle's City Hall. Clearly, Amazon is afraid of Kshama Sawant and our powerful grassroots campaign.

DONATE TODAY for our emergency donations drive
🚨🚨🚨https://t.co/DM4GyHBPn1 pic.twitter.com/cuN81nF1hw

— Kshama Solidarity Campaign (@Kshama_SC) October 16, 2019
We're guessing her mostly-out-of-district donors will rise to the challenge. Recall that 46.7% of her donations (at last check) have come from outside interests. Sawant opted against the publicly-funded Democracy Vouchers that she supported.
A press conference and protest outside Amazon headquarters are planned for Thursday with City Councilmembers Mike O'Brien and Lorena Gonzalez and others planning to speak. Candidates Scott and Morales will join Sawant at the event as well. You know things are bad when her campaign puts out an SOS to Rep. Alexandria Ocasio-Cortez (D-NY). Desperate times call for desperate measures.