Todd Myers, Washington Policy Center
Testing has taken an increasingly central role as state officials attempt to limit the spread and risk from the coronavirus. Increased testing to find and treat people who are asymptomatic – because people can spread the virus while they show no signs of sickness – can help prevent the spread of the virus and prevent those carrying it from passing it on to other members of their family.
Understanding that, other states in our region are taking steps to increase testing.
Since late April, Oregon has increased the average number of daily COVID-19 tests from 1,800 a day to about 2,300 a day. That's an increase of about 28 percent.
California's testing increased from about 23,000 a day to 38,000 a day, an increase of 66 percent.
Washington State officials, on the other hand, have reduced the number of average daily tests from about 5,100 down to 4,675 – a decline of more than eight percent.
You read that right – other states are increasing their testing capacity, while Washington is going in the other direction and reducing daily testing.
On April 13th, the governors from California, Oregon, and Washington announced they would be forming the "Western States Pact" to share information and strategies to fight the coronavirus outbreak. Since that time, California and Oregon governors have increased testing and allowed more parts of their states to reopen for business (thus allowing more people to go back to work). Testing allows state officials to understand the extent and risk of the virus.
Washington's governor, however, has taken a different route. Washington officials actually reduced daily testing and were keeping tighter restrictions in place. In the absence of information, the extent of the health risk is less understood, and remain-home restrictions stay in place to offset that ignorance.
The failure to increase testing isn't a federal government problem. California and Oregon officials are both increasing testing. If this were the result of problem at the federal level, we should see downward trends in testing rates in all three states.
Throughout the crisis, Governor Inslee consistently claims he is following the science to make decisions. A lack of testing, however, indicates he doesn't have the data to make an accurate assessment of the risk of transmission.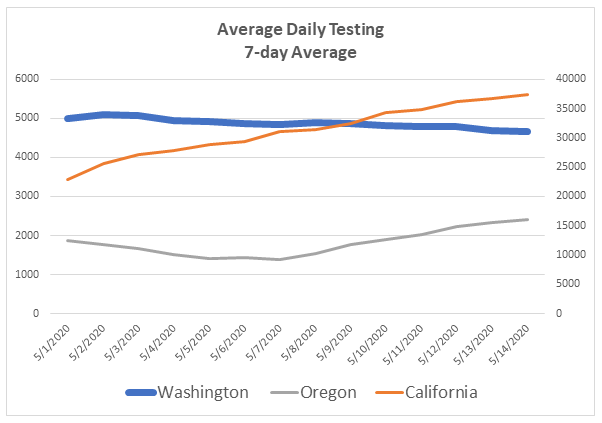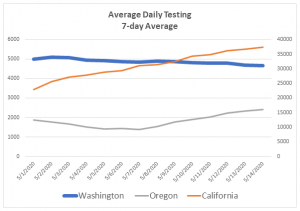 Without reliable information about how far the disease has spread, the governor is continuing a stricter economic shutdown than that in either Oregon or California.
Since the outbreak began, Washington state has completed more tests per capita than either California or Oregon. Many of those tests, however, occurred a month ago and no longer provide useful information. Some people who tested negative a month ago may have contracted the virus since then. Washington leads the three states in the number of outdated tests per capita but is falling behind the others in current test information.
The cost of this failure is felt economically and in lives. As long as there is uncertainty about the extent of the illness, the governor has continued to enforce tight restrictions on business – backed up by lawsuits from Attorney General Ferguson. A lack of testing also means the virus is more likely to spread, as people who have the virus but have not yet shown symptoms transmit it to others, putting their lives at risk.
Without a reliable and improved system of testing, Washington will continue to put the economy and lives at risk.